A row has broken out in Kenya over the growing number of refugees fleeing there because of the east African drought.
A severe lack of water in the Horn of Africa is causing a huge food shortage and putting millions of people at risk of starvation.
Somalia is among the worst-hit countries.
Every day, thousands of Somalians are fleeing to neighbouring countries like Ethiopia and Kenya in search of help.
But they are also struggling to cope.
Now Kenya's government is arguing over how to deal with the situation.
New camp
Ricky recently visited Kenya's Dadaab camp. It's the biggest refugee camp in the country but it's already very overcrowded.
Aid workers say there are about 370,000 people living there, even though it was only set up for 90,000.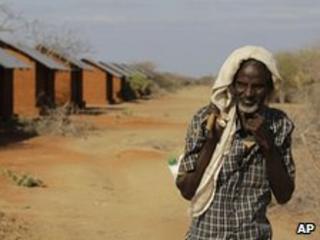 AP
Work started on another refugee camp - Ifo II - but has since been stopped as the Kenyan government is divided over whether it should be opened.
Some ministers are worried that a new camp will encourage more refugees to go there, while others say they are embarrassed that Kenya's refusing to do more to help.
The United Nations is now holding talks with the Kenyan government to try to persuade them to open the Ifo II camp, which has room for 40,000 people and would ease the overcrowding at the Dadaab camp.