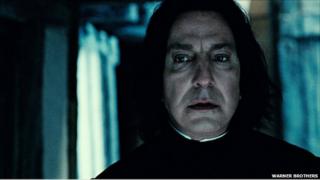 Warner Brothers
He may not have been everyone at Hogwarts' favourite teacher but Severus Snape has just been voted the greatest Harry Potter character by wizarding fans.
The sneering potions master beat Harry, Hermoine and Ron to the number one spot in a poll run by MTV.
Most fans probably reckon that Harry's evil enemy Voldemort is pretty scary, but he lost out to crazy Bellatrix Lestrange who was voted the best villian.
The death of Hogwarts' headmaster Professor Dumbledore was chosen as the most memorable moment from the seven wizarding books.
Harry's invisiblity cloak was beaten by Hermione's time turner device as the one item from the magical series that muggles would like to get their hands on in real life.
And Ron may have never been top of the class in spells but HP fans reckon that actor Rupert Grint, who played Ron in the films, will come out on top in the end.
Followers of the books think that Rupert will be the most successful of the film's stars in the future.