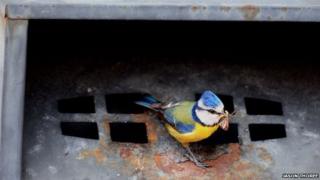 Other
A pair of blue tits looking for a new nesting place have set up home in a cigarette bin in Scotland.
The birds are small enough to squeeze through the slots in the bin in Cairngorms National Park, not far from Loch Ness.
They've been spotted flying in and out with food for their chicks.
It may be pretty smelly, but the bin is also safe for the birds as it's harder for predators to reach them there.
The biggest danger is from smokers, but signs have been put up around the bin warning them not to use it.