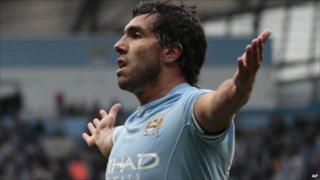 AP
Man City have turned down an offer of £35 million for Carlos Tevez from Brazilian side Corinthians.
Last week Tevez announced that he wanted to leave the club so that he could move closer to his wife and kids, who live in Argentina.
The City captain played for Corinthians between 2005 and 2006, winning the league title in his time there.
But City are in no rush to sell the star striker and are likely to hold out for much higher offers.
There had been rumours that the big teams from Spain and Italy were interested in signing the Argentina international, but so far only Corinthians have made an offer.
The 27-year-old has proven himself to be one of the best strikers in the Premier League in recent seasons and has scored 52 goals in 86 appearances for the Blues.
Tevez is under contract with City until 2014 and is reported to be earning an incredible £200,000 a week in wages - which could put off a lot of clubs from wanting to sign him!