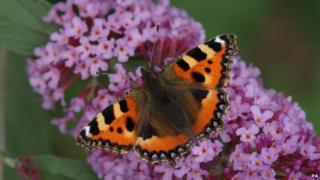 PA
People are being asked to head out into their gardens to count butterflies - to see if they've been hit by the recent hot, dry spring.
Lots of the insects hatched from cocoons early this year, and experts want to know if they had enough food.
So the Butterfly Conservation is asking people to spend 15 minutes counting the creatures in a sunny place.
People are then being asked to head to the Big Butterfly Count website to list their results.
The butterfly count will run from 16-31 July 2011.
Animal expert Sir David Attenborough is backing the campaign.
He said: "Butterflies are one of the stars of the British countryside. Summer just wouldn't be summer without them. But they continue to be in long-term decline.
"Now you can play your part in helping to save them by getting involved in the Big Butterfly Count."
Last year's survey discovered Britain's most common butterfly, the meadow brown, had its worst year on record but the common blue had a very good summer.