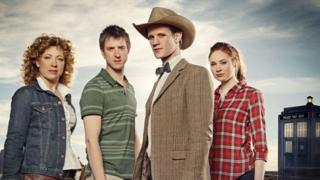 (C) British Broadcasting Corporation
The head writer of Doctor Who has hit out at fans who leak plots about the show on the internet.
Steven Moffat says spoiling the story in advance is a bit like vandalism and he wished these people could "go and be fans of something else".
He wrote the The Impossible Astronaut which kicked off the latest series, and is also the show's executive producer.
Moffat said people who had seen previews and then leaked plots did "a horrific thing".
He spoke out after the entire plot of the two-episode opener to the latest run of the BBC1 show was posted online before it had been shown on TV.
Moffat said: "It's heartbreaking in a way because you're trying to tell stories, and stories depend on surprise."
He was behind some of the scariest episodes of Dr Who, like Blink with the Weeping Angels, and also wrote the 2010 Christmas special.