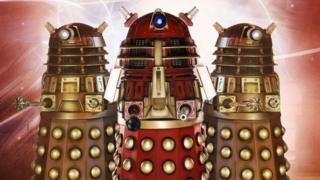 One of Doctor Who's most famous enemies won't be starring in any episodes soon - they're having a bit of a break.
Doctor Who boss Steven Moffat says the Daleks won't be hitting our screens for a while because there's been loads of battles between them and the Time Lord - and they always lose.
He said: "They aren't going to make an appearance for a while... We thought it was about time to give them a rest."
The Daleks first appeared in the show in 1963.
Steven Moffat, who's also the head writer, added: "There's a problem with the Daleks. They have been defeated by the Doctor about 400 times.
"Surely they should just see the Tardis approaching, say, 'Oh. It's him again', and trudge away."
Horror for children
The Daleks were voted the scariest villains in the history of Doctor Who in a poll of 21,000 fans in 2007.
Some people have said the latest series is too much like a horror film, but Moffat said the show was as frightening as a fairy tale: "It is horror, but horror for children.
"The key is that it has to be the level of horror that a man with ridiculous hair and a bow tie can deal with."