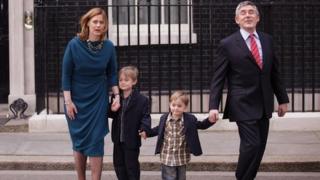 PA
Former Prime Minister Gordon Brown has talked about how he cried after being told that a paper had got hold of private information about his son's serious illness.
Fraser, four, was born with a medical condition called cystic fibrosis.
The Sun newspaper, owned by the same company as the News of the World, found out about it and decided to make it a front page story.
The News of the World shut down on Sunday.
Journalists there were accused of spying on the phones of victims of crime. Its owners, News International, decided it had to close.
Mr Brown has also accused the Sunday Times - which is also owned by News International - of looking at details of his personal bank account and legal files before he became prime minister.
News International said it would investigate Mr Brown' s claims and wanted to see all the information.