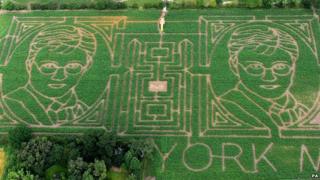 PA
York Maze has gone Harry Potter mad with Europe's biggest maize maze!
Farmer Tom Pearcy cut two faces of Harry through a field of more than million maize plants - creating what he hopes is the world's largest game of 'spot the difference'.
And it's big - it's the size of eight football pitches and the pathways are over six miles long.
Tom said: "I wanted to do something imaginative to say farewell to Harry, so creating the biggest image of him ever made and making it a 'spot the difference' competition seemed like an interesting way to do that."