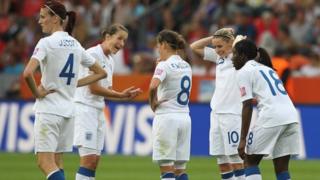 Getty Images
England's women's team have hit back at their coach after she accused some of them of being cowards after losing their World Cup quarter-final penalty shoot-out.
The team crashed out of the competition when France beat them 4-3 on penalties, after the first 90 minutes ended 1-1.
Coach Hope Powell had to ask three times for volunteers to take the spot-kicks, which she said showed cowardice.
But midfielder Jill Scott said: "You win as a team, you lose as a team".
The player posted her response to Powell's comments on her Twitter page and was supported by team-mates Karen Bardsley and Claire Rafferty.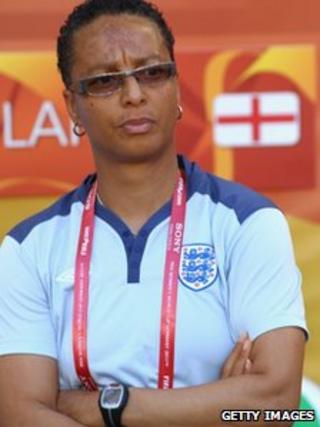 Getty Images
Casey Stoney, who scored one of England's penalties, said Powell's comments were very different to those she made to the team immediately after the match.
"I don't think anyone's a coward and that's not the impression I got from Hope when she debriefed us after the game," she told BBC Radio 5 Live.
"She said she was very proud and we should hold our heads up high."
Coach Powell's original comments came after England's defeat on Saturday.
She said she had to ask three times before anyone stepped forward to take a penalty then added: "You've got to want to take a penalty, but other players should have come forward and they didn't. That's weak, it's cowardice."