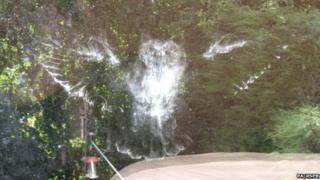 PA
We bet this owl was in a bit of a flap after crashing into a window and leaving an almost perfect impression of himself on the glass.
The silhouette of the owl, complete with eyes, beak and feathers, was left by a powder the owls have to protect their growing feathers.
Sally Arnold spotted the unusual imprint at her home in Kendal, Cumbria.
There was no sign of the owl, so it's thought it was able to fly off without serious injury.
Experts from the RSPB charity reckon it was probably a tawny owl, based on the size and shape of the imprint and the fact that they are more common in gardens.
Val Osborne, head of the RSPB's wildlife inquiries team, said: "This would have been very uncomfortable for the bird but thankfully it looks like it survived. Sadly, many birds aren't so lucky."
A spokesman for the charity said birds often collide with windows or start to attack them, but the sight of such a clear imprint is pretty rare.