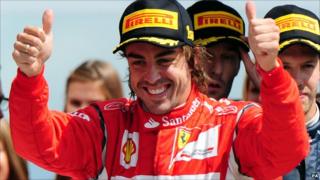 PA
Fernando Alonso raced to a convincing win in the British Grand Prix at Silverstone on Sunday.
Alonso secured his and Ferrari's first win of the season with a sensational drive that saw him come out on top over current high-flyer Sebastian Vettel.
Australian Mark Webber had been in pole position at the start, but it was fellow Red Bull driver Vettel who took the early lead in difficult conditions.
Then it was all change in the 28th lap, when a delayed pit stop for Vettel let Alonso move into first place.
The Spanish double world champion then kept up the pace to maintain his lead and win the race!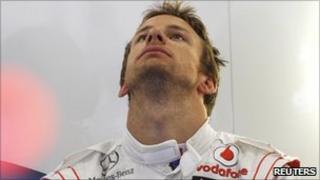 Reuters
But it wasn't a good day for British pair Lewis Hamilton and Jenson Button.
Button didn't even finish the race after his right wheel fell off following a mix up during his pit stop.
The former Formula One world champion has never finished on the podium at Silverstone in 12 years of trying and will now have to wait another year to break his curse!
Meanwhile, his McLaren team-mate Lewis Hamilton also had a bit of bad luck when his car wasn't given enough petrol at a pit stop - which meant he couldn't race as fast as he would of liked for the remaining laps and ended up finishing fourth.
Hamilton and Button are now both on 109 points in the drivers table - 92 points behind overall leader Sebastian Vettel.
Both will be hoping for better luck in the German Grand Prix on Sunday 24 July.