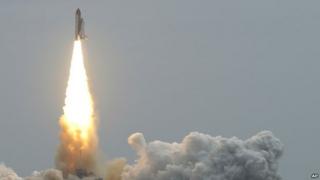 AP
Nasa's final space shuttle mission has lifted off from Cape Canaveral in Florida.
The Atlantis shuttle successfully blasted into space on Friday at 11:29am local time, despite earlier worries that bad weather would delay it.
It's a huge moment because it marks the end of America's 30-year space shuttle programme.
Atlantis is taking four astronauts and loads of supplies to the International Space Station.
When Atlantis returns to Earth after its 12-day mission, it'll be put into a museum along with the other space shuttles.
There have been 135 Nasa missions in total. This is Atlantis's 33rd flight into space.