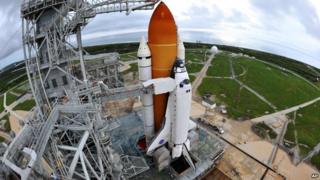 AP
American space shuttle Atlantis will be blasting off into space today for the very last time - if weather allows.
It's a big deal as Atlantis is also the last shuttle of American space agency, Nasa.
So we want to know what your messages are for the four astronauts on board.
Do you want to wish them luck? Do you think they're brave? Or do you have any suggestions of what they should do while they're up in space?
Get typing and send your space messages in! We'll even try to send some of your messages through to Nasa.
This page has now closed, but check out some of the best comments below.
Your comments
"I just want to wish you good luck! I think you are very brave and have fun!"
Rimsha, 11
"Just remember... you're on top of the world... literally! Lol! HAVE FUN!"
Ruby, 12
"Everybody will be proud of you after you do this! You've got to do it!"
Daniel, 9
"We think you should be very brave, and please could you look out for a satellite."
Lachlan, 5
"Good luck to you all in the shuttle! Hope it all goes OK! You are role models to the world's children!"
Molly, 13
"They must be really passionate about this. They have got to be brave and I am sure they will succeed in their mission! Good luck!"
Nakkita, 12
"Good Luck - everyone is rooting you on!!!!"
Sharon, 11
"I will keep the astronauts in my prayers. I hope they will have a very memorable, safe trip."
Anna, 11
"Have fun in space!"
Brian, 9
"How are you guys? It must be hard up there. I would love to be in up there."
Taran, 10
"Good luck - make the world proud."
Reagan, 10
"I love space missions and I am sad that this is coming to an end."
Callum, 10
"You should open a packet of crisps and fly through the cabin just opening your mouth and eating them! I really admire your courage at taking on this mission as well!"
Beatrice, 11