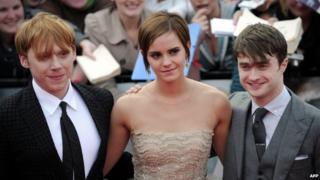 AFP
There were plenty of tears last night at the last ever Potter premiere in central London.
JK Rowling said thank you to thousands of Harry Potter fans who packed Trafalgar Square at the world premiere.
The red carpet was pretty squelchy after a day of torrential rain! But the sun shone down as the stars arrived.
Daniel Radcliffe has played our favourite wizard since he was 11-years-old.
He told fans the films would be with them "for the rest of their lives".
JK Rowling then thanked the actors for "the amazing things they did for my favourite characters".
Then it was the fans' turn: "Thank you for queuing up for the books for all those years, for camping out in a wet Trafalgar Square."
Fans back chanted "Thank you!" and Rowling said: "No, no, I'm already crying."
Daniel Radcliffe who flew in from working on his new show in New York said Harry's story would never end.
"Each and every person, not just here in this square but around the world who have watched these films for the last 10 years, they will always carry the films with them for the rest of their lives," he reckons.
Rupert Grint and Emma Watson spent hours on the red carpet signing autographs.