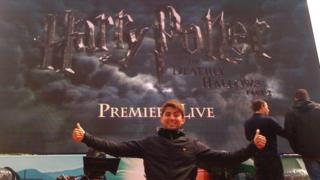 Potter fans, the end is finally here! Thursday saw the premiere of the LAST Harry Potter movie, Deathly Hallows Part 2, in London.
Newsround's Ricky was, of course, on the red carpet to meet the stars and bring YOU the goss! Read all of Ricky's updates here - it's almost as good as having been there yourself!
7:40pm
Emma Watson, Rupert Grint and JK Rowling are all crying on stage!
"What you've done for ginger people..." Rupert's made the crowd laugh!
7:30pm
The cast and JK Rowling are on stage. This is it. They're about to be whisked off to the cinema.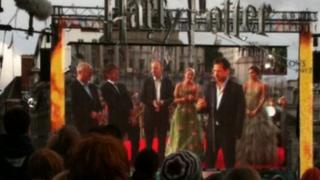 7:10pm
It looks like the stars are all talked out. We know Daniel Radcliffe is here but will he talk to us?!
6:45pm
Waiting to talk to Emma Watson. She just used the reflection of our camera lens to check her hair!
6:40pm
No, hold that. Even bigger screams for JK Rowling, who's wearing a green dress with big pink flowers on it.
6:35pm
Daniel Radcliffe just arrived to the biggest screams of the night!
6:30pm
Interviewing the stars. Have spoken to Hagrid, Dumbledore and Ginny. Draco Malfoy just came over to us too!
6:00pm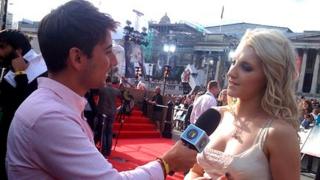 Evanna Lynch, aka Luna Lovegood, said she was a big Potter fan before she got the part. She loved that they had open audtions to give fans a chance to be a part of the films. Luna was always her favourite character!
5:45pm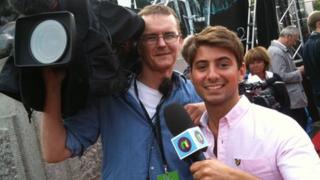 My cameraman Darryl and I. I've worked with him on three of the Harry Potter premieres! He's a legend. My producer Jo is here too. But she's a bit camera shy.
5:40pm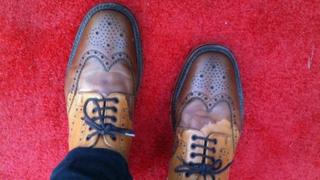 The sun may have come out but look at my shoes. They're ruined because of the wet red carpet!
5:25pm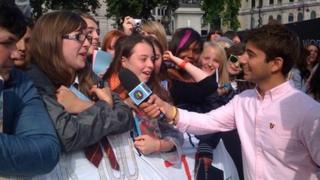 Chatting to fans who say Potter will never end!
See pics of other fans who turned up for the premiere!
5:15pm
Most of the big stars are here now - spotted Michael Gambon, who plays Dumbledore. Just waiting on Emma and Dan now!
5:05pm
Just interviewed Matt Lewis - aka Neville Longbottom LIVE on the red carpet for Newsround. If you missed it, here it is again!
4:50pm
Rupert Grint said when he saw "It all ends" on the posters he got really sad. He's meeting up with Emma and Dan really soon and they'll probably go for a meal.
4:40pm
Waiting to go live on BBC News with Rupert Grint. His shoes have got textured velvet patches on them!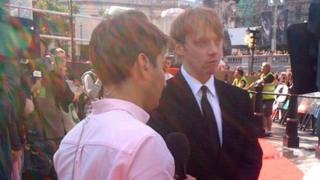 4:30pm
Rupert Grint is here!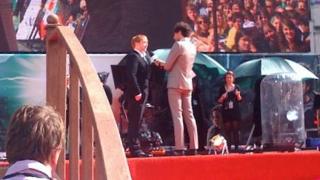 4:15pm
They've started to play the Deathly Hallows trailer to the crowds, who are going wild! I've not spotted any celebs yet but I've spotted reporters from all over the world!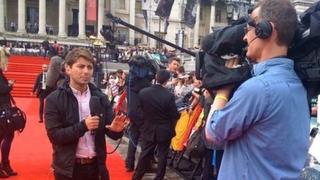 3:30pm
I've been in Trafalgar Square since 1pm. That's nothing though. Some fans have camped out since Monday - without tents! I've been soaking up the action and talking to fans. Check back soon for more updates.