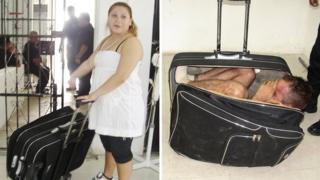 Reuters
A woman in Mexico has been caught trying to sneak her husband out of prison - by hiding him in a suitcase!
Maria del Mar Arjona was stopped after guards saw her acting nervously and struggling with the heavy case on wheels.
When they opened up her bag, they found her husband curled up inside!
She had been allowed to take in the luggage because she was visiting her husband.
Her husband is serving a 20-year sentence and was returned to his cell after the jailbreak attempt. She's been arrested by police.