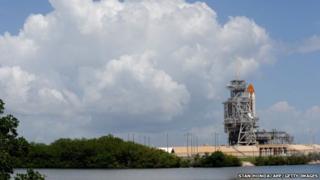 Getty Images
Storms could be set to spoil the lift-off on Friday of Nasa's last shuttle, Atlantis.
The countdown clock started ticking on Tuesday, but if the weather doesn't improve the launch may be delayed.
Massive crowds of people are expected to turn out to watch the lift-off, at 3.26pm BST (that's British Summer Time).
When it does fly, Atlantis will be carrying more than 3.5 tonnes of supplies to the International Space Station.
The US space agency (Nasa) is getting rid of its shuttle programme.
But the shuttles themselves will go on display in museums across America.