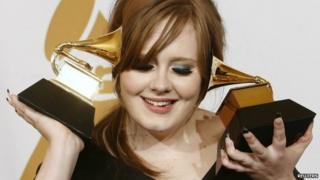 Reuters
Songstress Adele's Someone Like You is the first single to sell more than a million copies this decade.
It stuck at number one for four weeks in February, before bouncing back to the top of the chart for another week in March.
The song became even more popular because Adele sang it at the Brit Awards in February.
Since 2000, only 16 singles have reached the million sales mark.
The last singles that managed to reach the million mark were Poker Face by Lady Gaga and I Gotta Feeling by the Black Eyed Peas, both released in 2009.