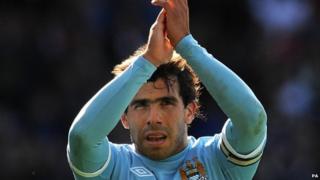 PA
Manchester City captain Carlos Tevez says he definitely wants to leave the Premier League club.
The 27-year-old striker says it's too hard being so far away from his daughters, who live in Argentina with their mum.
Tevez first said he wanted to leave Eastlands in December last year, but later withdrew his transfer request.
Since then there have been loads of rumours, but this time it looks like his decision his final.
He said that he hopes he's done his bit "to help City progress towards their ambition to be champions of England and advance in the Champions League."