Shaun Foggett loves his crocodiles so much he used to live with the massive creatures.
But he's now taken his love of the animals to a whole new level, selling his house and buying a zoo for them.
When he was 22 he got his first ever crocodile, now he has 60 of them and he's set up the UK's first zoo for crocodiles and alligators.
The new zoo is also a rescue centre for other unwanted reptiles - including turtles that have outgrown their owner's homes and unwanted lizards and snakes.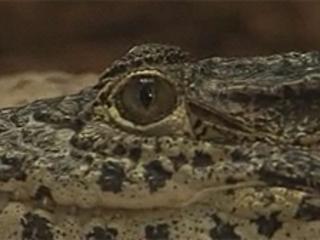 (C) British Broadcasting Corporation
Ricky went to meet Shaun and found out more about the new zoo.
Shaun said "Moving them from my house into here was fantastic, because they have a lot more room here."
"It's lovely being able to create these enclosures where they can swim, and we can observe a lot more natural behaviour."