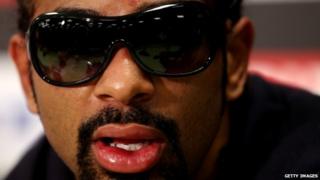 Getty Images
British boxer David Haye has said he'd like a rematch with Wladimir Klitschko, who beat him in Hamburg on Saturday.
The heavyweight fighter said he'd love the chance to take back the WBA title he lost in a points victory.
He said: "If there's a potential rematch in there, well the guy's beaten me and obviously I'd love the opportunity to challenge for his title."
But Klitschko's manager said the Ukrainian won't fight Haye again.
Instead, he's offered to arrange for Haye to fight Klitschko's elder brother, Vitali, who's also a boxer.
Immediately after the fight David Haye blamed the defeat on a toe injury he suffered in training several weeks before.
But speaking again on Monday he offered no excuses: "I got beat by a guy who's very consistent, very strong, very good at what he does and I'm gutted."
Since Haye lost at the weekend, there's been lots of talk about whether he will still retire in October as planned, or carry on fighting.