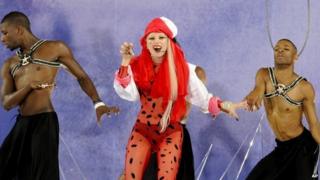 AP
Lady Gaga's album has gone straight into the charts at the number one spot AND sold more copies than the rest of the top 10 put together!
Chart bosses say Born This Way had 215,000 sales - the biggest first week for an album so far this year.
And the star's first album, The Fame, went up to seven from 11th place!
Lady Gaga knocks Adele off the top spot. Adele had spent 16 of the last 21 weeks at the top and is now at number two with 21 and number three with 19.
Lady Gaga said: "I feel so honoured to have the highest first week sales in the UK this year."
The singer also fared well in the singles chart, with three tracks in the Top 20 - Judas at number nine, Born This Way at 17 and The Edge of Glory at 18.
Rapper Pitbull held on to the top spot with his debut single Give Me Everything featuring Ne-Yo, Afrojack and Nayer. The track reached number one last week, two weeks after entering the charts at number 12.