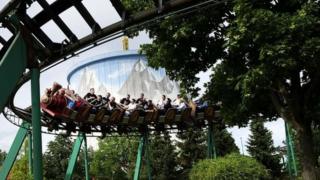 AFP
Nine people were rescued from a rollercoaster after being trapped for hours on the ride in Strathclyde Park.
Fire crews were called to M&Ds in Lanarkshire after the ride got stuck on Sunday afternoon.
The youngest person in the group was nine-years-old.
They were stranded about 18 metres above the ground.
Strathclyde Police said: "Nine people of various ages were on the ride.
"Strathclyde Police and other emergency services were sent to the scene.
"Everybody is now safe and well. No-one needed to be taken to hospital."