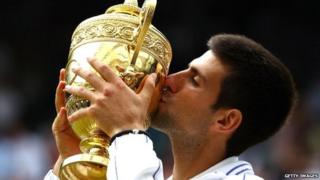 Getty Images
Novak Djokovic has won his first Wimbledon title with a stunning win over Rafael Nadal.
The Serbian, who's 24-years-old, is now officially the best tennis player in the world.
He won 6-4 6-1 1-6 6-3 to end Nadal's reign as Wimbledon champion, after an incredible season.
It was his 50th win in 51 matches this year, and it was his fifth win over Nadal this year.
Djokovic has won the Australian Open twice, so this is his third Grand Slam victory.
He was so happy with his victory that he sank down to the floor and ate the grass on Centre Court!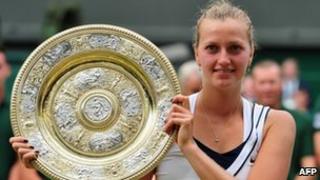 AFP
Women's final
In the women's final, Petra Kvitova beat Maria Sharapova to become the Wimbledon 2011 champion.
She said: "I was surprised how I was feeling on the court because I was focused only on the point and on the game and not on the final and the medal. So I'm so happy for that."
British hopes dashed in Juniors Final
British Junior Liam Broady didn't quite manage to become Britain's first winner of the Wimbledon boys' title since 1962.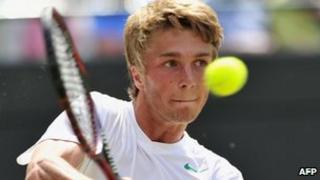 AFP
He lost out to Australia's Luke Saville in the final.
On a packed Court One, the 17-year-old left-hander from Stockport was beaten 2-6 6-4 6-2 in one hour and 42 minutes.
He said: "During the whole match I didn't serve my best.
"He managed to break me at the start of the second set and started to serve better himself, and the match just slipped away."