A 22-year-old student from England has won the French version of the X Factor.
Matthew Raymond-Barker was knocked out in the early stages of the UK's X Factor but won the French show on Tuesday night.
Matthew, from Mitcham, Surrey, decided to enter as he was studying French in Toulouse. He said that being English in a French competition may have helped him stand out.
He beat challenger Marina D'Amico, 17, by just 1,300 votes.
Try a quiz on UK X Factor winner Matt Cardle
Matthew got to perform alongside international stars Beyonce and Bruno Mars in the final.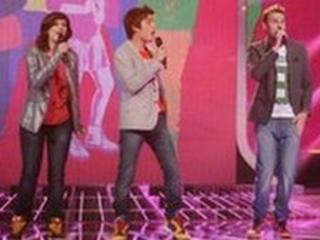 Other
He burst into tears on stage when his name was read out as the winner. He has won a recording contract and will release his first single, called Vivre Ou Survivre, in France soon.
The singer auditioned for the last series of the UK show but failed to make it past the first round of boot camp.
Matthew said he thought he'd enter the French show as he had nothing to lose: "I just had the aim to go one step further than I did in the UK, but it obviously worked out a lot better!
"I'm not the best singer in the world, believe me, but I just try really hard.
"I know people say that X Factor is the really quick way to do it - like it's the lazy way - but it can show your determination."