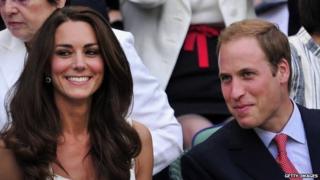 Getty Images
Newlyweds William and Kate are making their first official overseas visit as a married couple - to Canada.
During their nine-day trip they'll go canoeing, take part in a cookery workshop and William will show off his skill as a helicopter pilot by taking part in a demonstration.
It's Kate's first visit to Canada - William last visited when he was 15.
Thousands of people are expected to turn out to see their first appearance on Thursday in the capital, Ottawa.
They will travel to seven cities and will be part of Friday's celebrations for Canada Day, the same day the Duke of Cambridge's mother, Princess Diana, would have turned 50 if she was alive.
On Prince Edward Island the royal couple will be on different teams during a dragon boat race. Wonder which team will win?
The Duke and Duchess will then travel to California on 8 July.