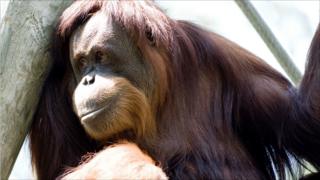 Scientists reckon that happy orangutans live longer than sad ones in zoos.
The team from Britain and America have come up with a way to measure how happy orangutans are in captivity.
They studied nearly 200 animals and returned seven years later to see how they were getting on. They found that the happier ones were more likely to have survived that time.
It's thought a very happy orangutan could live up to 11 years longer than a very sad one.
If you're wondering how to measure the happiness of an orangutan, here's how:
The scientists asked zoo keepers who worked closely with the apes some questions, including how much time the orangutan spent having fun and being happy.
They were also asked to imagine how happy they would be if they were that orangutan for a week.
Experts hope that the research can also be used to find out if a captive orangutan is ready to be released back into the wild.