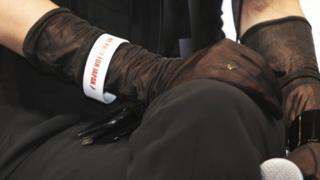 Reuters
A row's broken out over wristbands that Lady Gaga is selling to raise money for the victims of the Japanese earthquake.
The white bands say "We pray for Japan" and are for sale on the pop star's website for about £3 - with the option to give more money to help those hit by the quake and tsunami in March.
But she's been accused of taking some of the money for her own use.
Her spokesman said the court case was "misguided" and all the money from wristband sales was going to charity.
He added: "Lady Gaga has personally pledged her own funds to this cause and continues to support the victims of the disaster."
According to Japanese media, Lady Gaga has so far donated approximately £1.9m to disaster zones in the north-east of Japan, most of that from the sale of the wristbands.