It might sound baa-rmy but a tiny Chihuahua dog has got a hidden talent - herding sheep.
Rescue dog Nancy weighs just 1.1kg but can boss the woolly sheep about, even though they're about six times taller than her!
Her owner said Nancy was always watching the usual breed of sheep-herding dogs - border collies - at work.
So she gave the Chihuahua a go - and Nancy was a natural!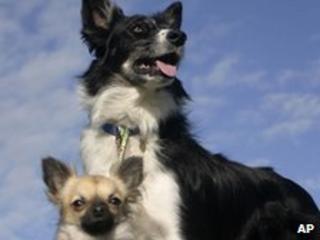 AP
Owner Ali Taylor, who works at Battersea Dogs and Cats Home, said Nancy is a sheep-herding star: "I started in a very controlled environment but it quickly became evident that Nancy has natural ability and loves herding sheep."
The Chihuahua was taken to the rescue centre at just three weeks old with a severe skin condition and had to be hand-reared.
Ali added: "People sometimes under-estimate rescue dogs, but they really are fantastic, and go on to do amazing things."
The charity stressed that no-one should try sheep herding without expert supervision as dogs can hurt sheep.