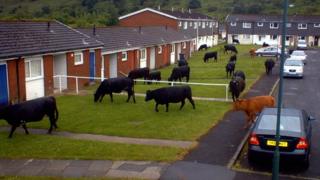 Wales News Service
You might be used to having your milk delivered but imagine having a whole cow turn up on your doorstep!
That's what happened to residents living in a quiet street in Blaenau Gwent, Wales, when a herd of cattle invaded.
They say the 20 cows trampled on gardens, ate flowers, left cowpats and even looked into windows!
The rampaging animals, who escaped from a nearby paddock in Tredegar, were eventually moo-ved back to their home.
The local council says it is looking into the problem of the escaping cows.
Resident Sonya Gould, 70, said: "They were everywhere. We are all treading cow muck into our carpets because it's all over our garden paths."
Ann Ingram, who was woken up by the cows mooing, said: "It used to be sheep, and that's bad enough, but cows are a whole different kettle of fish.
"It's frightening for many of the older people here to have cows walking down the street, peering in their windows, it's ridiculous."