It's here! Welcome to our new Newsround website, which we've just launched.
The first thing you'll notice is that everything's much bigger and brighter - so the pictures we're using all over the website are clearer too.
We've also tried to make it easier to find your way around and see more stuff that interests you.
And you'll start seeing little puzzles that appear within stories to keep you busy as you read.
Now we've got a new look, we're going to start working on more improvements - like better, quicker ways of sending us your comments, and making the site look good on mobiles too.
But we'll still be bringing you the the same great stories, galleries, video clips and games as ever, and we've still got games and quizzes to keep you clicking.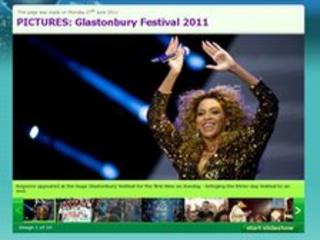 (C) British Broadcasting Corporation
There are four main sections in the new site: News, Sport, Entertainment and Animals - they're the titles in the bar at the top of the page. Then, down the right-hand side, you can click to watch the latest programme, as well as see special sections and weird and wonderful stuff.
Right at the bottom of every page is where you'll see how you can watch Match of the Day Kickabout, listen to our radio bulletin, as well as the big A-Z page where you can find all our guides, from Afghanistan to Harry Potter, Doctor Who to Bullying, along with our older content and material for teachers.
Also at the bottom of every page is the link for how you can get in touch with us - so do let us know what you think about all the changes!