A penguin that turned up in New Zealand thousands of miles from its home in the Antarctic is getting better after vets operated to save its life.
The young animal, nicknamed Happy Feet, is on his feet again and eating fish.
He became sick after eating sand, which he thought was snow. Emperor penguins usually eat snow so their bodies have enough water and to keep them cool.
It's thought the bird took a wrong turn when it was at sea hunting for food - and ended up getting lost.
The sand caused problems for the penguin's digestion system and vets operated, removing sand and other debris which he'd swallowed.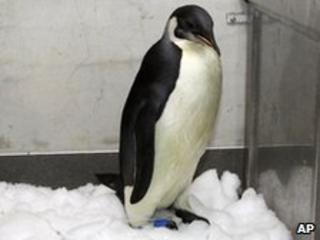 AP
To make him feel at home Happy Feet is being kept in a specially chilled room with a bed of ice to sleep on.
He is estimated to be about 10 months old and is 80cm tall.
A spokeswoman for Willington Zoo, where he's being treated, said he would have an X-ray on Wednesday to check his progress but would need more medical treatment over the next three months.
She added: "It's positive news, but he's definitely not out of the woods yet."