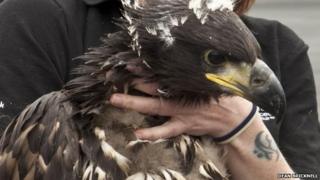 Other
Sixteen young sea eagles are settling into secret new homes in Scotland as part of an ongoing project to reintroduce them across the country.
The white-tailed eaglets arrived in Edinburgh on Friday after being flown over as a gift from Norway.
Now they're being looked after at aviaries in Fife until they are strong enough to be released into the wild.
Sea eagles are the UK's largest bird of prey and were hunted for years until there were almost none left in 1916.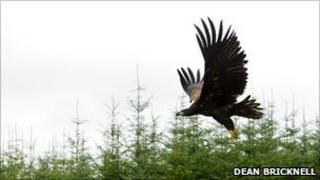 Other
For the past five years, a small number of sea eagles have been reintroduced to Scotland each year as part of a scheme by RSPB Scotland, Scottish Natural Heritage and Forestry Commission Scotland.
RSPB Scotland said there were now a record-breaking 52 breeding pairs of the species in Scotland.
Claire Smith, RSPB east Scotland sea eagle officer, said: "All the birds in the east coast population are fitted with radio and wing tags so we can keep track of their movements.
"Since the project began in 2007 we've had well over 2,500 reported sightings. We're also pleased to see that east and west coast populations are mixing, which is a positive sign for the future."