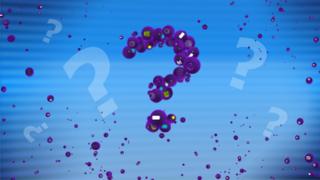 (C) British Broadcasting Corporation
Newsround receives hundreds of emails every week - so we've made this handy page answering some of the most common questions. If you have questions that aren't about Newsround you can contact CBBC or contact the BBC online.
I'm looking for a story but it's not on the front page anymore
You can find every Newsround story dating back to 2001 using the search box at the top of every page on our website. Enter a word like "tiger" or "space" to find the story you're looking for - or enter "newsround" to show a list of all our recent stories.
Can I use your pictures on my website?
Sorry, you cannot take pictures from this website for publication elsewhere without our permission.
Why can I still see pages from your old site?
Our website is constantly evolving, so some of the stories in our archive look a little different. It's simply not possible to redesign all the old pages - so we leave them as they were when they were published. Some of the most popular pages from our old website do redirect to new versions.
How do I become a journalist?
The Newsround presenters have a few tips about getting into journalism on their presenter profiles.
Can I do work experience with Newsround?
Due to child protection and health and safety laws you have to be over 18 to apply to do work experience at CBBC. If you are over 18, the BBC does offer a range of work experience opportunities in News and CBBC. Check the BBC Careers page for more information.
I want to be on Newsround!
If you have a great story idea, send it to us.
We read every single idea that people send in - and if we feature your story we may even contact you to take part.
So if you've got a really good idea that you want to share with the Newsround team, get in touch.
When can I watch Newsround?
We broadcast daily on TV and you can watch Newsround on our website.
I need advice on a personal issue
Newsround cannot help you directly with personal issues, but if you are feeling unhappy then we do know people who can help. If you need any help or advice then we suggest you contact a support group like ChildLine. They have a free and confidential telephone number and you can contact them at anytime to talk about anything that is worrying you.
ChildLine's telephone number is 0800 11 11
If you're being bullied by other people then you can also find more information about bullying and get advice from people who have been bullied in the past on the Newsrond website. Have a look at our special section: What is bullying?
What age group is Newsround aimed at?
Newsround has a target audience of 6 to 12-year-olds and the stories and language used in our bulletins reflects that.
We try to pick stories that will appeal to our viewers - and we try to bring a child's view into our reports. Our team is a mix of child experts, journalists and teachers.
Why hasn't my comment been used on the site/read out on the show?
Every day at Newsround we get hundreds - sometimes thousands - of emails. While we look at every comment, and publish lots of them on the website, we can only read out a tiny amount of the ones that are sent in on TV - and we can't publish every single one we receive on the website. But do keep sending your comments as one day yours could be picked.
I sent a picture in to the Newsround website and it hasn't been used anywhere, why not?
We are sorry that you've sent pictures into the Newsround site and they have not been chosen to appear in our galleries. We do get lots of pictures emailed in from children and unfortunately we can't always publish every picture we receive. But please keep sending your pictures and one of them will be used at some point.
I'm having problems watching video
Here's what to do if the Newsround player doesn't work on your device.
I'm having problems with the messageboards
Click on the below link for help with CBBC's messageboards