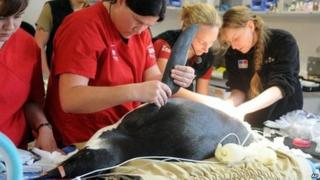 AP
A penguin that turned up in New Zealand thousands of miles from its home in the Antarctic is recovering from operations to try to save its life.
The young animal was found on a beach last week but he became poorly after eating sand which he thought was snow.
Emperor penguins usually eat snow to make sure their bodies have enough water and keep them cool.
But the sand has caused problems for the penguin's digestion system and vets have been operating to make him better.
It's the first time an Emperor penguin has been officially seen in New Zealand in 44 years. It's thought the bird took a wrong turn when it was at sea hunting for food - and ended up getting lost.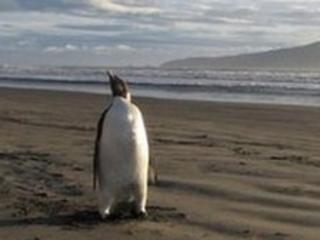 AP
He is estimated to be about 10 months old, is 80cm tall and has been nicknamed Happy Feet.
His story is being followed by people around the world.
Happy Feet is being treated at Wellington Zoo and vet Lisa Argilla said: "There's people all over the world keeping an eye on this guy, and they need to know that we're doing our best."