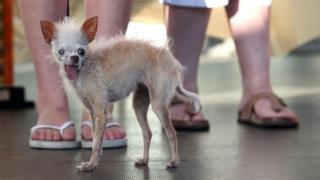 Getty Images
A dog that was found abandoned in the street has won this year's world's ugliest dog contest.
Yoda, a 14-year-old Chihuahua and Chinese crested mix, beat nearly 50 other dogs in the competition in California, America, to take the title!
Her owner said said that when she found the tiny dog, she first thought it was a rat.
Yoda, who weighs just 900g, wins a huge trophy and her owner gets a cheque for £630.