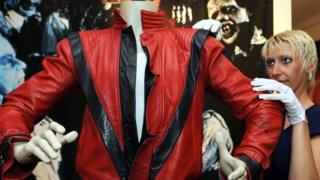 Getty Images
A leather jacket worn by Michael Jackson in the Thriller music video has been sold at auction for £1.1m!
The bright red jacket worn by the star in the 14-minute pop video was sold along with loads of other music memorabilia.
The new owner, a gold trader from Texas, plans to use the jacket to raise money for children's charities.
The 1983 Thriller video might seem old-fashioned now but at the time it was unique.
Click here to find out more about Michael Jackson
The new owner Milton Verret said: "It is one of the most important pieces of rock 'n' roll memorabilia in history."
Michael Jackson died two years ago. Some of the money raised will go to a big cat sanctuary that's caring for two tigers he once owned.