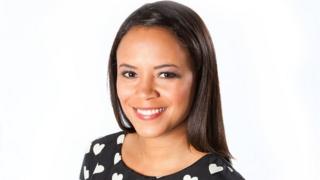 James Davis/BBC
Leah Boleto is one of Newsround's presenters.
She joined in July 2009.
Want to know more about her? Then read on...
Date of Birth
8 April
Brothers/Sisters?
I have a younger sister Rebekah and an older brother Dean.
Hobbies?
Once a week I play football over in the park with my mates. I love shopping, dancing and singing (really badly).
Favourite colour?
Blue.
Favourite item of clothing?
My "Where the Wild things Are" T-shirt.
Favourite band?
The Pipettes.
How would you spend your perfect Sunday afternoon?
A day by the coast, eating candy floss, fish and chips and the dodgems!
Favourite animal?
Dogs - but only really small ones.
What are you scared of?
I'm scared of heights. I'm bad with flying and tall buildings.
What makes you laugh?
My best friend Tulip makes me laugh.
What other jobs have you had?
I worked at a call centre for about eight months. I had to ring people up and talk them through questionnaires - lots of people hung up on me.
I was also a hair model for Toni & Guy, which meant I got a couple of free haircuts.
Favourite food?
I love Thai food.
Most embarrassing moment?
Sneezing when I was reading a live radio bulletin.
Favourite holiday destination?
Barbados.
Most memorable news story you've reported on?
The 7/7 London bombings. I was on my way to work when the story broke, London came to a standstill and I had to file reports back to the news desk via my mobile.
Career highlight so far?
Interviewing David Beckham when he launched his soccer school at the Millennium Dome in Greenwich in 2005.
I asked him whether he wanted Brooklyn to become a footballer like him and what music he liked to listen to.
What makes a good NR story?
Action-packed, adventure stories. I really liked the story about the British backpacker who survived 12 days in the Blue Mountains in Australia. Amazing.
Any advice to children who want to get into journalism?
It's important to get some work experience under your belt because that will give you a sense of what the job is really like.
What makes you happy?
Laughing, my niece and nephew smiling, chocolate and my Mini Cooper.
Favourite gadget?
My mobile.
What's your biggest ambition?
To run a marathon and to work for Newsround.