BBC News Africa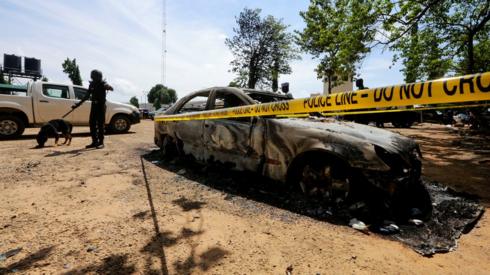 Top Stories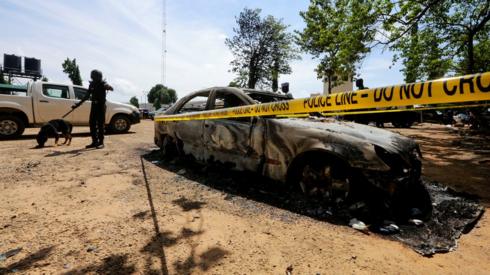 Featured Contents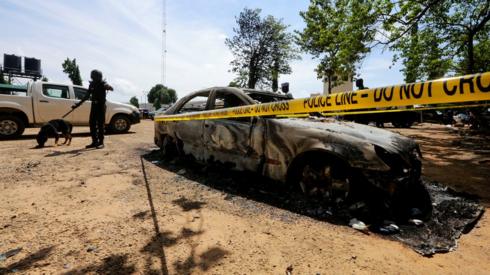 Latest Updates
By Ishaq Khalid & Alys Davies

BBC News, Abuja and London

Acclaimed Zimbabwe author challenges arrest warrant

Joice Etutu

BBC News, Nairobi

Image caption: Tsitsi Dangarembga denies that she incited violence against the government

Renowned Zimbabwean novelist Tsitsi Dangarembga is planning to challenge an arrest warrant after she failed to appear in court over a charge of incitement to violence.

Dangarembga told the BBC that she missed the late June court appearance because of a medical condition.

The charge relates to anti-government protests that had been reportedly planned in 2020, but the novelist denies accusations that she incited violence against the government of President Emmerson Mnangagwa.

The author of award-winning books Nervous Conditions and This Mournable Body has spent the last year tutoring aspiring writers across Africa.

She's been telling them about the importance of creativity on the continent - that "the problems we have need to be solved by new ideas".

"Writing is an act of bravery, it's an act which requires courage," she added.

Dangarembga says she trusts the Zimbabwean justice system to do its job when it rules on her case.

By Nomsa Maseko

BBC News, East London

Mozambique appreciates Italy's help in insurgency fight

Jose Tembe

BBC News, Maputo

Copyright: Mozambique Presidency

Image caption: Visiting Italian President Sergio Mattarella (L) and his host President Felipe Nyusi at a banquet last night

Mozambican President Filipe Nyusi has thanked his Italian counterpart for the training his troops have received in the fight against Islamist insurgents in the country's northernmost region.

"We would like to express, Mr Sergio Mattarella, our deep gratitude to Italy, which is part of the European Union's military training mission," Mr Nyusi said in a speech last night at a banquet honouring the Italian president.

In his remarks, Mr Mattarella said Italy would also offer technical and scientific training to help Mozambique explore hydrocarbons.

Italian energy company ENI has been doing natural gas exploration in the Cabo Delgado province, which has been severely disrupted by militant activities since 2017.

Violence in the eastern part of the DR Congo has escalated in recent months, reporter Joice Etutu explains why.

Search on for Tigray flood victims as 10 buried

Copyright: Aron Weldegebreal

Image caption: Guesh Aregay said he was the only one to have survived out of 25 people in the market

Residents of a town in Ethiopia's northern Tigray region are still searching for missing bodies after heavy rain and flooding killed at least 10 people last week.

Residents of Selekleka town, in north-west Tigray, say the search is continuing amid fears that the death toll could rise.

Teame Woldegebriel, a resident of the town, told the BBC that the 10 bodies recovered had already been buried.

He said the town had been swamped and "many people" swept away in the 26 June incident.

"[The flood] destroyed shops at the market site. Everyone there was also swept away by the floods. There are others whose bodies haven't been found,'' Mr Teame said.

Other residents told the BBC that the heavy floods had destroyed homes, markets and crops.

Guesh Aregay said he was the only one to have survived out of the dozens of people who were at the Selekleka market during the flooding incident.

"We were 25 people together. I'm the only survivor, the rest were swept away by the flood. Two mothers who were here in the market were swept away with their children.

He said though he had survived, he lost 80,000 birr ($1,530; £1,280).

"Now I don't have anything, I'm just on an empty stomach," he said.

Tadelech Gela told the BBC that her home was swamped while she was in and had lost all her belongings. She said was rescued by nearby forces but now had nothing to eat.

The residents say many of them had been displaced from their homes but there was no-one who had come to offer help.

Tigray authorities have not responded to the BBC's queries on the matter.

Militants escape in Nigerian prison raid

Ishaq Khalid

BBC News, Abuja

Image caption: The attackers set fire to vehicles in the prison compound

Suspected Boko Haram militants are among 436 inmates on the run after gunmen from the extremist group attacked a prison outside the Nigerian capital, Abuja, government officials say.

Some 879 detainees escaped after Tuesday night's attack but 443 of them have been recaptured, Umar Abubakar, spokesman for the Correctional Service, has said.

Shuaibu Belgore, a senior official from the interior ministry said the attackers were Boko Haram militants and, "they came specifically for their co-conspirators."

He added that that some of the escapees either returned voluntarily or had been recaptured.

Witnesses said they heard loud explosions and gunfire around the Kuje prison last night.

The prison was holding a number of high-profile detainees, including suspected militants and jailed politicians.

This is the latest in a series of jailbreaks in Nigeria in which more than 5,000 inmates have escaped since 2020.

By Oluwashina Okeleji

Sports Writer

Boko Haram suspects missing after Nigeria jailbreak

Officials in Nigeria say dozens of Boko Haram suspects are missing after a prison in the capital, Abuja, was attacked by armed men on Tuesday night.

The authorities have not said the total number of inmates who are on the run.

Witnesses described hearing loud explosions and gunfire around the Kuje prison.

The security forces said they later retook control of the facility.

Islamist militants have carried out several jailbreaks across Nigeria in recent years.

Other armed criminal gangs have also carried out similar attacks.

More than 5,000 inmates have escaped since 2020.

Hours before the latest prison attack, gunmen opened fire on a presidential in the north of the country. President Muhammadu Buhari was not in any of the vehicles.

DR Congo leader warns of war with Rwanda

Image caption: Congolese troops have been fighting several armed groups in the eastern region

The president of Democratic Republic of Congo has warned that his country could be on the brink of a war with Rwanda amid worsening relations between the two neighbours.

"This possibility cannot be ruled out. If Rwanda's provocation continues, we will not sit and do nothing about it. We are not weak," Félix Tshisekedi told UK newspaper Financial Times in an interview.

He accused Rwanda of backing the M23 rebel group and also of having "illicit vested economic interests in the DRC."

Mr Tshisekedi is set to meet his Rwanda counterpart Paul Kagame on Wednesday in Angola.

The Congolese leader told the FT ahead of the meeting that Mr Kagame should show "sincerity" in discussions and admit that his government was backing M23 rebels whose activities, among other groups, have destabilised mineral-rich eastern DR Congo.

Rwanda's President Paul Kagame has repeatedly rejected the accusations.

He said on Monday that the ongoing crisis was an internal DR Congo matter and his country was not involved.

By Celestine Karoney

BBC Sport Africa in Morocco

Hunger kills 13 children in southern Ethiopia

Kalkidan Yibeltal

BBC News

Image caption: The government's relief agency says aid is being provided

At least 13 children in southern Ethiopia have died due to hunger as drought and conflicts continue to affect the area, local authorities have said.

A local official from Konso district confirmed the deaths.

He told the BBC that crop failure continued to push many away from their homes and farms.

The official said the number of malnourished children in the district was growing, with more than 240 of them admitted to hospitals.

The government's relief agency told the BBC that aid was being provided to those affected.

The Horn of Africa region is facing the worst drought in decades with aid agencies saying that seven million children under the age of five are facing acute malnutrition.

Southern Ethiopia is one the areas severely affected by the drought that has left at least 18 million people across the region without enough food.

An Ethiopian migrant describes the abuse he faced at the hands of traffickers in Somalia and Yemen.

Photos: Mass funeral for SA tragedy victims under way

Nomsa Maseko

BBC Southern Africa correspondent

South African President Cyril Ramaphosa has joined mourners at the funeral service of 21 teenagers who died 10 days ago while attending a party in the city of East London.

Relatives of the teenagers who died mysteriously at Enyobeni tavern wept uncontrollably as the coffins were brought inside the marquee where the funeral service is being held.

Pupils, some in school uniform and others wearing T-shirts bearing the faces of the deceased, are also gathered here to remember their friends.

President Ramaphosa is expected to deliver a eulogy.

One of the deceased teenagers was buried on Tuesday, another will be laid to rest on Wednesday, while the others will be buried separately over the next few days.

It's still unclear what killed the young people who were attending a party to celebrate the end of the mid-year exams.

Families are still waiting for answers. The toxicology report is yet to be concluded but forensic pathologists have said initial tests revealed that the teenagers' deaths may have been caused by something they inhaled or ingested.

Their deaths also brought renewed calls for the legal drinking age to be increased from 18 to 21 in a country that has a reputation for teenage and binge drinking.

Opec chief Muhammad Barkindo dies in Nigeria

Ishaq Khalid

BBC News, Abuja

The secretary general of Opec, Muhammad Barkindo, 63, died on Tuesday night in the Nigerian capital, Abuja, according to officials.

His death was announced on Wednesday morning in a tweet by the head of Nigeria's state oil company (NNPC).

The circumstances of the death remain unclear.

The Organization of the Petroleum Exporting Countries termed his death "a profound loss to the entire Opec Family, the oil industry and the international community".

Mr Barkindo's six-year tenure was due to end this month and he was visiting his home country as part of farewell activities.

He was instrumental in signing a deal between Opec and non-Opec member countries, including Russia, on stabilising oil output in the global market in 2016.

He was also spearheading the organisation's drive towards recovery following the unprecedented shocks in the global oil market caused by the Covid-19 pandemic.

He had met President Muhammadu Buhari earlier on Tuesday afternoon at the presidential palace where the president described him as a "worthy ambassador" of Nigeria.

Mr Buhari had also ordered a "befitting reception" event to honour him.