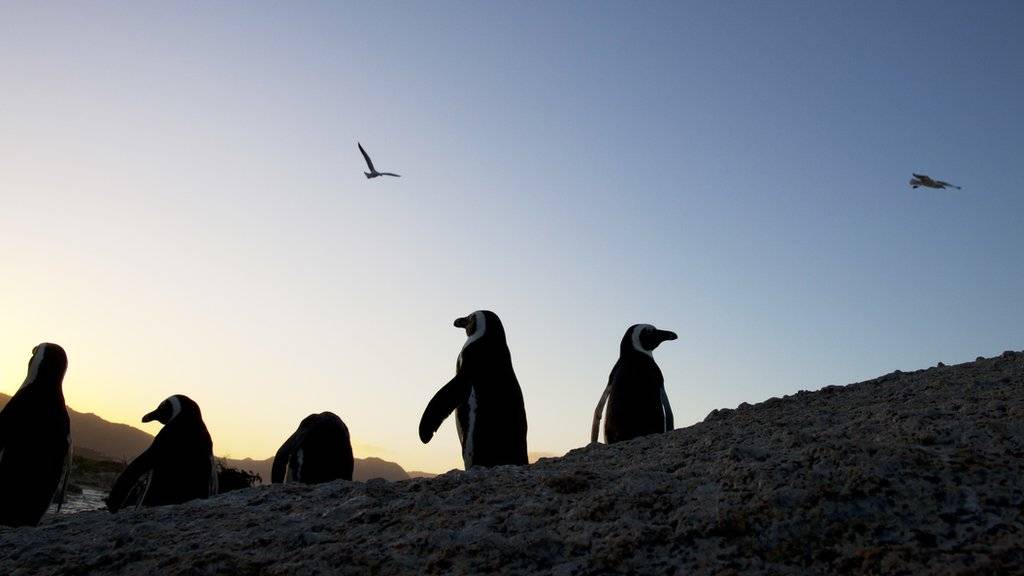 There are fewer than 500 hirola living in the wild, down from thousands just 40 years ago.

11-year-old Anthony Mmesoma Madu is challenging ballet stereotypes.

Scroll down for this week's stories

We'll be back on Monday

That's all from BBC Africa Live this week we'll be back on Monday morning - until then there will be an automated service.

Keep up-to-date with what's happening across the continent by listening to the Africa Today podcast or checking the BBC News website.

A reminder of our wise words of the day:

Quote Message: One good turn deserves another." from A Tonga proverb sent by Samuel Banda in Nkhata Bay, Malawi.

Click here and scroll to the bottom to send us your African proverbs.

And we leave you with this image from our selection of some of the best images of the week of a statue of Jesus Christ illuminated by a full moon in Kenya's Turkana county:

Coronavirus and Africa Q&A

Image caption: Hand-washing and wearing masks are important ways to stop the spread of the virus

BBC OS on World Service radio has been hearing your questions about the coronavirus pandemic.

Dr Megan Murray, professor of Global Health and Social Medicine at Harvard University in the US, has been answering.

Q - Aburas in Kenya: "As much as I believe that Covid-19 has affected the world and has caused a lot of deaths and infections, personally I don't believe it's a virus that warrants all this attention. I believe this is just a hybrid common cold."

A - Dr Murray: "The mortality rate of Covid-19 is much higher than that of influenza. In Kenya there's been 9,500 reported cases and 181 reported deaths, so that's a mortality rate of about 2%, which is very similar to the mortality rate of many other countries.

"So not only is the fatality rate relatively high, but the data we've collected suggests that there are some long-term health issues in people who have been infected but who don't die... So I think it really is a disease we should be very concerned about."

Q - Abdirizak in Uganda: "Here in Africa I think the coronavirus is not all that big a deal to people. How can I protect myself as an African, because you see people are not all that informed?"

A - Dr Murray: "The first things to think about are hand-washing, wearing masks, staying out of crowded public spaces especially indoors, and making sure you don't touch things that you think might have been contaminated. But it's much harder in a country where you're not getting that message from the government."

If you want to send your question in, you can WhatsApp BBC OS on +447730 751925.

Mali protest: 'We don't want this regime anymore'

Demonstrators have turned out in large numbers in the Malian capital, Bamako, calling for the resignation of President Ibrahim Boubacar Keïta, the AFP news agency reports.

This is the third protest against corruption and cronyism, weak public services and national leadership, electoral malpractice and the government's inability to bring an end to inter-communal and jihadist violence have fuelled popular frustration.

The protests are being organised by a new coalition and led by imam Mahmoud Dicko.

"We don't want this regime any more," one protester is quoted by AFP as saying.

Ethiopian embassy in UK to restore bust of emperor

Ameyu Etana

BBC Afaan Oromo

Image caption: Haile Selassie, Ethiopia's last emperor, lived in exile in the UK from 1936 to 1941

The Ethiopian embassy in London says together with members of the Ethiopian community it will restore the bust of Haile Selassie, Ethiopia's last emperor, which was toppled by Oromo protesters last week in London.

The demonstrators were angered by the murder of prominent singer Hachalu Hundessa, who was gunned down last week in the capital, Addis Ababa.

In the aftermath of his death his supporters marched in Addis Ababa and other parts of Ethiopia to show their discontent, in some areas clashing with police.

The protests spread to the UK, where a group of youths targeted the bust in a park in south London.

The Metropolitan Police are investigating the incident.

African medics 'need better protection'

Rhoda Odhiambo

BBC News, Nairobi

Image caption: Medics are on the coronavirus front line

The first reported death from coronavirus of a doctor in Kenya has thrown a spotlight on the dangers that medics are facing.

Dr Doreen Lugaliki's death follows that of a Kenyan nurse a fortnight ago.

In all, there are now almost 300 healthcare workers who have tested positive for Covid-19 in Kenya

They are on the front line in the fight against Covid-19 and there are questions over what kind of protection they are getting, not just in Kenya.

Union officials representing healthcare works across the continent say the rise in new infections among their members is as a result of lack of personal protective equipment (PPE) and proper infection prevention control measures in hospitals.

In Zimbabwe, 21 health workers have tested positive for Covid-19 in the country's second largest city, Bulawayo, after they came into contact with confirmed coronavirus cases and had been in isolation.

'The world needs beautiful music in the pandemic'

This is Africa speaks to C4 Pedro

Lockdown in Angola's capital, Luanda, has been amazingly productive for one of Angola's biggest stars.

C4 Pedro has produced two full albums of seven songs each in just two months. They were released on Tuesday, which also happened to be C4 Pedro's 37th birthday:

Quote Message: With the tours that we all have sometimes, it's impossible for us to create this way, so I'm thankful because I was able to create two albums by myself, because I'm also a producer. I've never done something like that before, it's incredible, I'm like: 'Woah, I did something special'."

The two albums are very different.

The darker one, Dragon, is C4 Pedro's first hip-hop album. He used to rap before kizomba took over his professional life, and he uses those skills to settle a few scores:

Quote Message: My rap name is Dragon. This Dragon comes to protect myself and my name. Not everybody loves to see someone succeed, you have people hating you just because you are too good.

Quote Message: Now with this pandemic I was home thinking about everything that I heard about me, and I say, OK, maybe this is just time to clarify some little things!"

But not all of the songs in the first album are addressed to C4 Pedro's haters:

Quote Message: Seven songs for haters? No, I don't believe they deserve it, that's too much. No, no, no, there's more important things in life than doing songs for your haters. With this hip-hop album people will understand that I am a human person who has feelings."

The second album is more typical and designed to be reassuring for C4 Pedro's many fans:

Quote Message: I don't want them thinking what is wrong with him? I'm good, this is the same C4. Lagrimas (meaning Tears) is an album full of love, with titles like Felicidade (Happiness), Pele Negra (Black Skin), and Africa Esta Viva (Africa Is Alive)."

Judging by the acapella taster C4 Pedro gave me, this second album is achingly beautiful.

"This is what I believe the world needs but the hip-hop album is what I need now," he chuckles.

You can listen to DJ Edu's full interview with C4 Pedro on This Is Africa once it's uploaded on Saturday at 12:00 GMT.

'Dr Doreen's death brings the risks closer to home'

Kenyan doctors reflect on the life of a colleague

Doctors in Kenya are today remembering a colleague who died after contracting Covid-19 - the first doctor in the country to die with the virus.

Dr Doreen Lugaliki was a gynaecologist, and has been described as a "young doctor with so much to offer".

BBC OS on World Service radio has been hearing reaction to her death from Kenyan doctors.

Dr Nelly Bosire is also a gynaecologist, working in the capital Nairobi. She studied with Dr Doreen.

"Dr Doreen was an extremely dedicated, hard-working gynaecologist who took care of her patients with so much passion. It brings the realities so close to home how much at risk we all are in the profession."

Dr Robert Tabu and Cynthia Waliaula are a married couple also in Nairobi.

"It's really sad, especially as the numbers are going up and the economy is opening up," says Dr Waliaula. "It's one person from the frontline who has been removed."

Dr Tabu works at the Covid ward at a private hospital in Nairobi. He says doctors are concerned about contracting the virus themselves.

"It's a bit scary seeing as we are at risk of getting the infection. I guess that PPE [personal protective equipment] has been provided and adequate training given.

"That helps to keep us calmer. So as much as in the back of our minds we are worried, these provisions help us to see patients as effectively as we can."

People have also been tweeting their condolences:

Uganda central bank threatens to cap interest rates

Russell Padmore

Business correspondent, BBC News

Image caption: The high cost of bank loans is prohibitive for Ugandan entrepreneurs

Uganda's central bank is threatening to put a cap on interest rates charged by commercial banks.

This comes amid frustration that the cost of getting a loan for businesses, or consumers, remains high - deterring entrepreneurs from borrowing money to invest in expanding a business to create more jobs.

In April, the Bank of Uganda cut its benchmark rate to 8% and then to 7% in June, hoping banks would take advantage of access to cheaper funds to lend more to businesses at lower rates.

However between April and June the average interest rate charged by banks on loans has ranged between 17% and almost 19%, significantly above the central bank's benchmark.

It is a sign that banks want to protect profits from lending.

The central bank has warned the financial industry that it is ready to take advantage of legislation that allows it to set minimum and maximum interest rates.

The Bank of Uganda has previously resisted demands to intervene, to set rates, saying the government should not control bank profit margins.

The financial sector insists the interest rates reflect high operating costs and the risk of defaults on repayments.

French-speaking bloc lifts Burundi sanctions

The Organisation Internationale de la Francophonie (OIF) - an organisation of French-speaking countries - has lifted sanctions imposed on Burundi four years ago "in light of recent political developments", the organisation said in a statement on its website.

The announcement was also made on Twitter by OIF secretary general Louise Mushikiwabo:

"A very good session of the permanent council of the Francophonie. At the heart of the debate: a strengthened and humane multilateralism, attentive to the needs of our populations, plus the lifting of the 2016 sanctions against Burundi, in accordance with procedures," she said.

The sanctions were put in place after late President Pierre Nkurunziza's decision to seek a third term in office in 2015 sparked violence.

The OIF is made up of 57 member states whose main language is French.

Libya resumes oil exports after six months

Libya's national oil company says it has resumed its vitally important exports after a halt of nearly six months, caused by conflict and political upheaval.

The first tanker has begun loading in the eastern port of Es-Sider.

The company's production facilities in the region had been blockaded by forces loyal to the renegade Gen Khalifa Haftar.

Oil exports are the backbone of Libya's economy, and the revenue lost during the halt in output has been estimated at more than $6bn (£4.75bn).

Nigeria anti-corruption boss suspended amid theft allegation

Ishaq Khalid

BBC News, Abuja

Nigeria's President Muhammadu Buhari has suspended the head of the country's anti-corruption body, the Economic and Financial Crimes Commission, who is himself being investigated for alleged corruption.

A statement from Nigeria's Justice Minister says the suspension of Ibrahim Magu is to allow for "unhindered inquiry" into his conduct.

This is the first official confirmation of the suspension after days of rumours.

The Nigerian government has not given details of the allegations against Mr Magu but reports suggest he is being investigated for allegedly embezzling funds and assets recovered from corrupt officials.

The Nigerian authorities on Monday denied reports that he had been arrested, saying he was only invited to appear before a presidential investigative panel for questioning.

The EFCC director of operations, Mohammed Umar, has been asked to take charge of the commission pending the outcome of the investigation.

Mr Magu became the acting EFCC head in 2015 when President Buhari came to power on a promise to tackle endemic corruption in the country.

Under his leadership of the anti-graft agency, a number of senior politicians, including several former powerful state governors, have been jailed but there have been questions about the way his commission managed funds recovered from corrupt officials.

Nigeria's Vice-President Yemi Osinbajo earlier this week denied reports that he also illegally benefited from the recovered wealth.

Two men arrested for murder of Ethiopian protest singer

Kalkidan Yibeltal

BBC News, Addis Ababa

Image caption: Hachalu Hundessa's murder sparked days of protests and violence

The authorities in Ethiopia have detained two suspects who are accused of being involved in the shooting dead of the popular Oromo musician Hachalu Hundessa as investigations continue.

His death last week sparked widespread protests and violence in the country's most populous state, Oromia, and the capital, Addis Ababa, in which more than 170 people were killed.

According to the federal attorney general, Adanech Abeibe, the suspects have confessed to their crimes.

Neither man has made any public comment about the accusations.

The authorities say that they were given instructions to murder the musician by a group called Shane, which broke away from the Oromo Liberation Front (OLF).

The OLF is a political party that at one time led an armed movement calling for self-rule for Oromia.

The suspects held three meetings with Shane as they planned the murder, the attorney general added.

A third suspect is said to be still at large.

The unrest that was sparked by Hachalu's murder has left scores dead with some ethnic and religious minorities targeted.

More than 4,500 people have been arrested, suspected of involvement in the trouble, including opposition figures and local government officials.

Read more:

Twenty-one health workers in Bulawayo test positive for virus

Shingai Nyoka

BBC News, Harare

Image caption: Zimbabwean health workers have decried lack of protective gear

Twenty-one health workers in Zimbabwe's second city of Bulawayo tested positive for Covid-19 on Wednesday, according to the latest Ministry of Health update.

The workers had come into contact with confirmed coronavirus cases and had been in isolation.

It comes days after nurses unions called a strike over poor pay and a shortage of personal protective gear.

This week has seen a dramatic spike in confirmed cases. Ninety-eight were recorded on Wednesday, 51 of them from Bulawayo.

On Thursday, 41 people from across the country tested positive for the virus. In all, Zimbabwe has recorded 926 cases.

A partial lockdown remains in place amid warnings the figures could still rise during the current winter season.

Gauteng premier tests positive for Covid-19

Image caption: Gauteng province currently has the highest number of infections in South Africa

The premier of Gauteng, the South African province that has become the epicentre of the country's coronavirus outbreak, has tested positive for Covid-19.

David Makhura said he had been tested for coronavirus after showing symptoms.

Mr Makhura will now self-isolate and work from home for 14 days while monitoring his health as his symptoms are still mild.

He tweeted a full statement urging people to wear masks, wash hands and social distance:

On Friday, South Africa recorded its highest-ever single-day increase in Covid-19 cases.