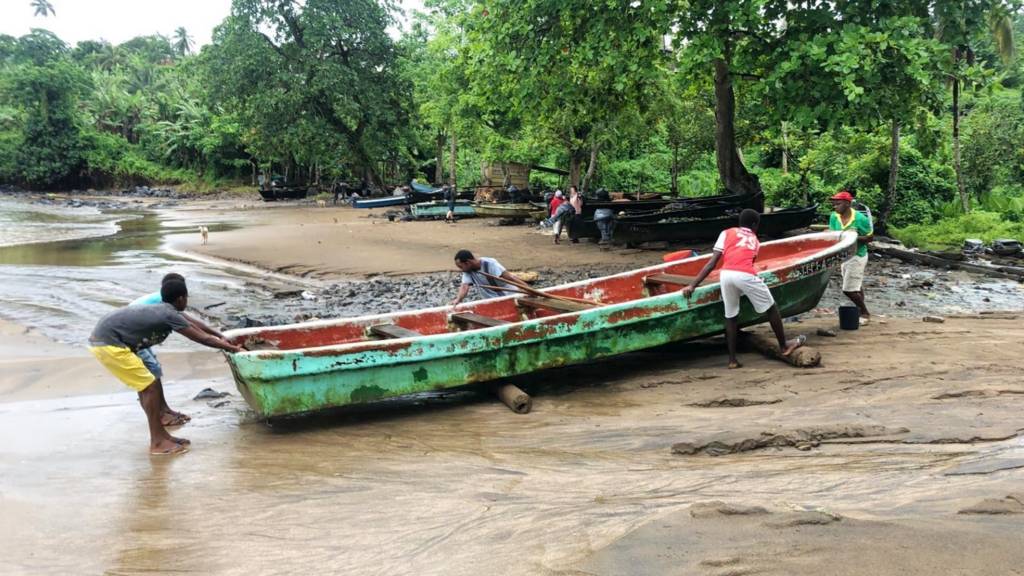 Live
Africa Live this week: 23-29 May 2022
Bringing you the latest news from around Africa at bbc.com/africalive. This is an automated feed overnight and at weekends.
By Daniele Verri

Italian football journalist

Yakubu Aku remembers the sequence of events as kidnappers attacked the Kaduna-bound train two months ago.

Scroll down for this week's stories

We're back on Monday

That's all from the BBC Africa Live team for now. There will be an automated news feed until we're back on Monday morning.

You can also keep up to date on the BBC News website or by listening to the Africa Today podcast.

A reminder of our wise words of the day:

Quote Message: A bull doesn't live with strength forever." from A Kalenjin proverb sent by Kiprono Arap in Kenya

Click here to send us your African proverbs.

And we leave you with this image from Johannesburg of a woman walking past a mural near the South African city's downtown area. It's one of our choices of best pictures of the week:

Starlink approved in Nigeria and Mozambique - Musk

Starlink, which says it can provide a high-speed internet connection to rural and remote parts of the world, has been approved for use in Nigeria and Mozambique, the company's founder Elon Musk has tweeted.

Starlink is able to provide the service through its satellite network.

When Mr Musk spoke about the service last year, it was reported that Starlink customers had to connect using small satellite receivers priced at $500 (£360).

Then there is data to factor in, which in the US costs $110 a month.

If those prices are replicated in Nigeria and Mozambique, it will be out of reach for most people.

The Malawian star confronting the Illuminati

DJ Edu

Presenter of This Is Africa on BBC World Service

Image caption: Eli Njuchi is also a He for She ambassador

It's a hot moment for Eli Njuchi.

The unassuming Malawian has triggered a TikTok dance challenge with his latest release, the very catchy GuGuGu.

As we know, once a song is a hit on TikTok, it's pretty much guaranteed the song will blow up more widely.

Eli Njuchi started his music career very early.

Back in 2015, when he was just 13, he was taken under the wing of producer Chycoon, and did backing vocals on a track called Never Leave You starring his friend and fellow artist Veda.

Quote Message: Chycoon is the one who really inspired me, he has an ear for good beats, he believed in me, and at that time he was very big in our ghetto, he was a ghetto star. Here we are man, the rest is history."

Before GuGuGu, Eli Njuchi's biggest song was Why in which he talks about having a crush on Malawian singer Sangie.

Quote Message: She's like our Beyoncé here, so think about it, an ordinary Eli Njuchi crushing on Beyoncé, you see how crazy it is!

Quote Message: When I recorded it I sent it to her and she loved it, I was even surprised that she promoted it. It left a lot of people interested, man, there were lots of questions, people were asking was the song real or is it just a song?

Quote Message: So I think that's what made the song that big. I think a lot of people related to it. They had, or they have, a crush on her. Shouldn't be hiding anything here!"

It's surely also Eli Njuchi's singing voice and obvious talent that made the song a hit. But another of his breakthrough songs also had an intriguing theme, so he clearly knows how to hook people's attention:

"The song Illuminati came from the industry stories about how artists are said to sell their souls just to win or be successful."

Eli Njuchi is not talking metaphorically:

Quote Message: We've heard about these stories like Jay-Z or other artists joined the Illuminati to get rich and powerful, and here in Africa people believe in witchcraft for them to be successful as a doctor or an engineer, which is not true, you just need to work hard, so it's what I wanted to narrate. I like storytelling."

He's barely out of his teens, but Eli Njuchi is already taking his position as an artist and influencer very seriously.

Quote Message: I'm a He for She ambassador, a UN women's project. I stand for the rights of the girl child, the women.

Quote Message: As a male artist I have a responsibility to protect my sister, your sister, your mother from all forms of abuse by fellow men. I want to be the voice for the process of change.

Quote Message: I hope my stories, my voice, will somehow stop that man from abusing that woman, that boy from trying to rape that girl. That's my vision, that's my goal."

Watch out for Red Flag, Eli Njuchi's third album, for which he intends to have a stadium launch in July.

Quote Message: I'm so, so super excited. The future for the Malawian music industry is so bright. Artists nowadays are energised, we are putting in work, the audience is very supportive, and artists like me can now fully survive as artists."

You can hear Eli Njuchi on This is Africa this Saturday, on BBC World Service radio and partner stations across Africa, as well as online here.

Nigeria's former VP candidate Peter Obi joins Labour

Nduka Orjinmo

BBC News, Abuja

Image caption: Peter Obi ran for vice-president in the last election on the ticket of the People's Democratic Party

Nigeria's former vice-presidential candidate, Peter Obi, has joined the Labour Party ahead of next year's presidential election.

On Wednesday, Mr Obi resigned from the main opposition People's Democratic Party (PDP), citing internal issues.

He was the party's vice-presidential candidate in 2019 and among 15 aspirants seeking delegates' votes in Saturday's primaries.

The former Anambra state governor announced his decision to join Labour on Friday and is expected to be the party's candidate in February.

Mr Obi has emerged as a popular figure among Nigeria's young who adore his uprightness and record in public service.

The Labour Party is not hugely popular across Nigeria but has won a governorship seat in the past.

Kenya medics protest over lack of training funding

Dorcas Wangira

Africa health correspondent

Kenyan doctors who are doing post-graduate training took to the streets of Nairobi to protest against the fact that the funding meant to help pay for their training has been withheld by the ministry of health.

The Kenya Medical Practitioners, Pharmacists and Dentists Union (KMPDU) says 400 government-sponsored medical specialists in training have not had their school fees paid for the last three years.

The doctors said they would protest for the next two weeks if the ministry fails to release the money.

The union has further threatened full-blown industrial action and the withdrawal of services.

The union is also demanding that the University of Nairobi complies with court orders issued last year to cancel the increase of fees charged to medical students.

South Sudan slams UN arms embargo renewal

Nichola Mandil

BBC News, Juba

Image caption: South Sudan's UN ambassador Akuei Bona Malwal said sanctions could harm people in his country

The government of South Sudan has slammed the UN Security Council's renewal of an arms embargo and targeted sanctions on the country.

Those accused of prolonging the conflict in South Sudan will remain under sanction.

Rights group Amnesty International has welcomed the decision.

"The [embargo] is crucial to curtailing the flow of weapons that have been used to commit or facilitate war crimes, human rights violations and abuses including conflict-related sexual violence," it said in a statement.

South Sudan's Foreign Minister Mayiik Ayii Deng called the resolution "counterproductive".

He also criticised Ghana for having voted in favour of the resolution. The other African members of the Security Council - Gabon and Kenya - abstained.

"When the African Union rejected the arms embargo on South Sudan, Ghana was its chair. That our brotherly country, whom we look to as an anchor of Pan-Africanism, should vote against the African Union position disappoints us. We, nonetheless, have confidence that the Ghanaian Government will revisit its position," Mr Ayii added.

South Sudan's envoy at the UN, Akuei Bona Malwal, said the renewal of the resolution may compound the economic misery the people of South Sudan are enduring.

Malawi slashes the value of its currency

Peter Jegwa

Lilongwe, Malawi

The authorities in Malawi have announced a 25% devaluation of the local currency, the kwacha, starting on Friday.

The announcement has come when Malawi is in the middle of negotiations with the International Monetary Fund (IMF) to determine the details of a new financial assistance programme.

To secure backing, the government has been asked to make adjustments to its economic policies, but central bank chief Wilson Banda says the decision to devalue the local currency has not been forced on the country by the international lending institution.

Mr Banda told the media in the southern city of Blantyre that the local currency had been devalued to allow the market to determine the exchange rate.

"It's a decision we have taken as the central bank looking at the economic trends. With or without the IMF we were going to do it," Mr Banda said.

A devaluation means that anything imported becomes more expensive and there are fears that commodity prices will rise.

Exports, on the other hand, become cheaper.

Nearly all South Africans have Covid antibodies - research

Image caption: About 60% of South Africans have received a Covid vaccine

A study using a sample of blood donors in South Africa has suggested that nearly everyone in the country has either been infected with Covid or has been vaccinated, or both, the Daily Maverick reports.

The South African National Blood Service and the Western Cape Blood Service looked at the blood from 3,000 donors taken in March and found that 98% had some Covid antibodies.

The Daily Maverick says that researchers found differences in rates of infection between different racial groups.

Black donors were much more likely to have been infected with Covid than white donors, who were more likely to have had the vaccine.

It quotes researchers as saying that "white donors are both unusually likely to avail themselves of vaccination, and they are unusually able to avoid exposure, for instance by working predominantly from home, [and] living in smaller family units".

Luxury Recycle - a stylist with the Midas touch

BBC Focus on Africa radio

Copyright: Luxury Recycle

Image caption: Luxury Recycle started off his career in a hip-hop group

Mozambican designer Hélio Manjate, better known as "Luxury Recycle", has told the BBC he feels like he is "flying on a spaceship" after getting a top fashion accolade for the second year running.

He scooped International Stylish Icon of the Year at the industry award ceremony in Ghana's capital, Accra, at the end of April. He was up against 50 other African artists at the Ghana Style Awards.

The stylist said that the award was important as it put him on a global footing - and gave opportunities to others in Mozambique, where high-end fashion is in its infancy.

"I'm opening a space for other creatives to showcase their work internationally," he told BBC Focus on Africa radio's Veronique Edwards.

He says that the job that really marked out his career was co-styling a video for DJ Tarico, a Mozambican artist, that featured Nigerian Afrobeats star Burna Boy.

"I think that is my biggest work… the song [Yaba Buluku] is a hit and is being played all over the world and people can see my work in the video."

In fact, Luxury Recycle started off his career in music as part of a hip-hop group.

"I found fashion within the music industry because we used to do photo shoots - that's where I fell in love with fashion."

At that time he says he favoured black and dark colours, but things changed: "I became a bright stylist.

"I'm not afraid of mixing colours, I'm not afraid of trying new colour blocks - so that's basically my identity as a stylist."

The musician-cum-stylist says he chose his name Luxury Recycle because it underscores his fashion philosophy: "Everything I touch turns to gold."

Five top SA businessmen in court over fraud charges

Image caption: Former Transnet boss Siyabonga Gama, seen here in 2021, was one of five men arrested this morning

In South Africa, five former employees of the state rail and ports operator, Transnet, have appeared in court in connection with fraud and money laundering charges.

They handed themselves over to police in the morning.

Among them was former Transnet chief executive Siyabonga Gama and Eric Wood, an associate of members of the Gupta family who are implicated in state corruption - charges they deny.

The five were granted bail.

The arrests follow the end of a commission of inquiry into corruption and the release of a report that recommended the prosecution of several Transnet former executives.

The authorities say more arrests are expected.

This is hugely significant for South Africa.

A long-running commission of inquiry into high-level corruption known as State Capture cost millions of dollars but has so far seen few arrests.

Read more about State Capture:

Thousands abandon their homes amid DR Congo battles

Patience Atuhaire

BBC News, Kampala

Image caption: Many of those fleeing recent clashes were pictured on Friday at Kanyarushinya, north of the city of Goma

More than 37,000 people have been forced from their homes in the Democratic Republic of Congo over the last four days of fighting, according to aid agencies.

Local media report that the national army has retaken some areas that had been seized by the M23 rebels in recent days.

But the main road between Rutshuru and the North Kivu regional capital, Goma, remains blocked by the M23.

The DR Congo government has again accused Rwanda of supporting the rebels, which the government in Kigali denies.

Earlier this week, Rwanda called for a regional investigation into how some artillery fire crossed into its territory, injuring some Rwandans.

On Wednesday, a police chief in Goma asked locals to take up arms and defend themselves against the M23.

The rebels have released a statement protesting that such comments are a recipe to create ethnic tensions.

The M23, made up of mainly Congolese ethnic Tutsis, is one of more than 100 militia groups fighting the government in the resource-rich eastern DR Congo.

The rebels accuse the government of failing to honour an agreement to allow them to form a political party, have their fighters integrated into the national army and allowing refugees to return home.

Prominent Sudan women's activist wins rights award

Image caption: Amira Osman Hamed has been fighting for Sudanese women's rights for decades

A prominent Sudanese women's rights activist who was detained earlier this year in a crackdown following the October 2021 coup has won a global human rights award.

Amira Osman Hamed is among this year's winners of the Front Line Defenders Award for Human Rights Defenders at Risk, the organisation announced on Friday.

The activist and engineer, who is now in her 40s, has been fighting for Sudanese women's rights for two decades.

She has been a victim of past human rights violations, according to the awards organiser, and was in 2013 detained and charged after she refused to put on a headscarf, worn by Muslim women to cover their hair.

She was also charged in 2002 for wearing trousers and was in January this year taken from her house and held incommunicado by security officers before later being released.

"Nevertheless, [she] never deterred from her mission and actively participated in peaceful demonstrations," Frontline Defenders said in the statement announcing the winners.

The Amalgamated Rural Teachers Union of Zimbabwe was also named as an award winner for is work on improving poor wages and the working conditions of rural teachers.

The organisation named three other rights defenders from Afghanistan, Belarus and Mexico as winners.