BBC News Africa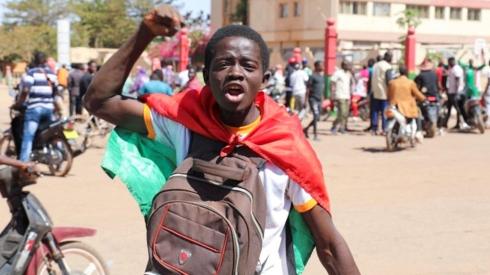 Top Stories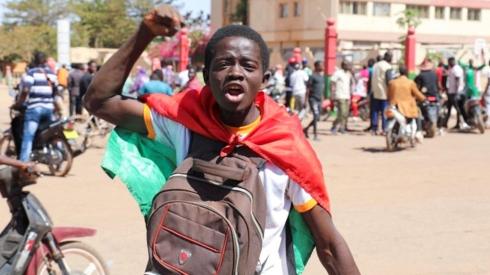 Featured Contents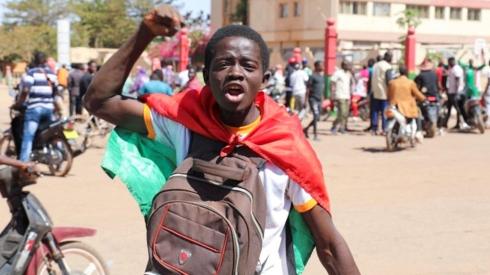 Latest Updates
By Rob Stevens

BBC Sport Africa

Nadjim Abdou is sent off for Comoros after just seven minutes of their last-16 match against Cameroon at the Africa Cup of Nations.

An army officer says the military have seized power and overthrown President Roch Kaboré.

Burkina Faso leader survived assassination attempt - party

The governing party in Burkina Faso says that what began as an army mutiny is rapidly evolving into a coup.

In a statement, the People's Movement for Progress said President Roch Kaboré and a government minister had survived assassination attempts.

It said the military had taken over state radio and television.

The African Union and the regional bloc Ecowas have condemned the coup attempt and called on soldiers not to harm Mr Kaboré.

His government has become increasingly unpopular for what critics describe as its failure to deal with an intensifying Islamist insurgency.

Tunisia president's top aide resigns

Image caption: Nadia Akacha said she was stepping down because of differences of opinion

The chief of staff to the Tunisian President Kaïs Saïed has said on Facebook that she has resigned.

Nadia Akacha said that she had made the decision over differences of opinion.

There has been no official confirmation as yet.

Ms Akacha has been one of President Saïeds closest aides - and is believed to have played an important role in his decision to suspend parliament and take full executive power last year.

Video of gunmen stripping students not from Nigeria

A video of armed men forcing students to strip naked that is circulating on WhatsApp in Nigeria was actually filmed in Cameroon, the BBC's Disinformation Unit has established.

Many of those sharing the video incorrectly say that the incident occurred in Nigeria's Kebbi state.

In the video, armed men who have been identified as separatists by a source familiar with the region, can be seen shooting into the ground near a group of what appears to be 13 schoolchildren dressed in turquoise blue and navy blue school uniforms.

The incident occurred in January 2022 and the BBC has identified the students as those from a specific secondary school in Buea, one of the biggest cities in Cameroon's troubled Anglophone regions.

Armed separatists want an independent country of Ambazonia for the country's English-speaking populations. The insurgents have used business and school closures to push their agenda, and have also been blamed for mass killing and arson in the region.

In the video, the armed men can be heard ordering the students to "remove their clothes" as they shoot into the air and ground, threatening to kill anyone that disobeys them.

The men speak in the Pidgin English spoken in the Anglophone region of Cameroon.

The BBC could not independently verify if there were any casualties as a call placed to the Cameroon Secondary Education Ministry went unanswered, but a Voice Of America article quoted the ministry as saying none of the students were hurt in the attack and their school was closed following the incident.

Towards the end of the video that was clearly shot by the armed men, one of them can be heard saying in Pidgin English "they are the ones going to school in Buea".

Reports indicate that the incident is part of a series of attacks launched by the separatist fighters in the region to disrupt the 2021 African Cup of Nations that is underway in Cameroon - including Buea and Limbe in the Anglophone regions.

Read more: Afcon: Playing football in the shadow of a rebellion

Zimbabwe opposition leader forms new party

Shingai Nyoka

BBC News, Harare

Image caption: "If you want MDC Alliance, take it," Nelson Chamisa has said (archive photo from 2019)

Nelson Chamisa, once leader of Zimbabwe's largest opposition party the Movement for Democratic Change (MDC) has formed a new party ending years of leadership struggles that weakened the opposition.

"We have lost everything except ourselves. If you want MDC Alliance, take it," he said as he announced the launch of the Citizen's Coalition for Change (CCC).

It comes as rival factions inside the MDC Alliance announced last week announced they would contest by-elections scheduled for March.

Mr Chamisa - who won 44.3% of the votes in the 2018 presidential election against incumbent President Emmerson Mnangagwa's 50.8% - was ousted as the MDC leader after the High Court in 2020 ruled that he had been appointed as acting president unprocedurally following the death of founding leader Morgan Tsvangirai in 2018.

His supporters said the judgement was an attempt by Mr Mnangagwa's government to usurp the party. Mr Chamisa has refused to recognise Mr Mnagangagwa's win, accusing him of stealing the election.

The MDC has been wracked by factional fights over the party name, symbols, properties and funding from parliament and many had advised Mr Chamisa to start his own party in the run-up to the 2018 elections.

It is not clear whether CCC will contest by-elections in March, where 28 MP and 105 councillors seats in mainly opposition strongholds are up for grabs. Most of the vacancies arose when rival factions recalled those aligned to Mr Chamisa.

General elections are scheduled for 2023.

Local elections deliver blow to Senegal's president

Mary Harper

Africa editor, BBC World Service

Image caption: These polls decide the mayors of more than 500 municipalities and the heads of Senegal's 46 departments.

Senegal's governing party has admitted defeat in the capital Dakar and the southern city of Ziguinchor in Sunday's local elections.

The polls were seen as a test of the government's popularity ahead of general elections in 2024.

Parties linked to two of President Macky Sall's fiercest rivals defeated his Bennoo Bokk Yaakaar coalition - Barthelemy Dias to set to become mayor of Dakar, and Ousmane Sonko the mayor of Ziguinchor.

President Sall has become increasingly unpopular since deadly riots last year over the arrest of Mr Sonko.

Mr Sonko is considered one of the main contenders to replace Mr Sall, who is supposed to stand down after two terms.

Mr Dias is an ally of former Dakar mayor Khalifa Sall (no relation to the president), who was jailed in 2018 on corruption charges that were widely seen as a way of sidelining a political rival.

Diaspora to vote in Angola elections for first time

Image caption: The last general election was in 2017

After years demanding this right, Angolans living in the diaspora are finally set to vote in the country's general elections for the first time in August.

People aged 18 and above have until 31 March to register, and the authorities say they hope to register about 450,000 Angolans spread across the world.

Mário Sousa, a 53-year-old who's lived in the UK since 2002, will be one of them. "We are looking forward to seeing how the process goes," he says.

So is Luzia Moniz - an Angolan journalist who has lived in Portugal for 33 years. She says the diaspora voting is "a first step towards what is needed to move the country forward as a democracy".

But Ms Moniz says she is concerned about the vote-counting process, because the ruling MPLA party has told local media that diaspora votes will have to be counted at the electoral commission's headquarters in the capital.

"We need more transparency in the voting process. It is not enough for the diaspora to vote. We need to end autocracy," she says.

The international rights index Freedom House says despite some improvements made since President João Lourenço's election in 2017, Angola continues to score poorly in terms of electoral process, political pluralism and civil liberties.

There have been celebrations in The Gambia as fans celebrated the team reaching the Final 16 of Afcon 2021.

Ecowas warn Burkina Faso soldiers over 'coup attempt'

Image caption: Supporters of Burkina Faso's military have been celebrating the president's reported arrest

Burkina Faso's neighbours say that they are holding mutinying soldiers responsible for the wellbeing of President Roch Kaboré.

The West African regional bloc Ecowas has called Sunday and Monday's events "a coup attempt" - in addition to reportedly seizing the president, soldiers have taken over the state broadcaster RTB.

Those mutinying have demanded changes in the military's leadership and more resources in their fight against jihadists.

It is not yet known if a message published on Mr Kaboré's Twitter account on Monday, calling for the country's democracy to be protected, was from the president himself. He has not been seen in public since reports of his detention emerged.

The 15-member group has suspended Mali and Guinea from its membership and imposed sanctions on them after the military in the two countries seized power.

Armed group takes six hostages in Ethiopia's Oromo region

Kalkidan Yibeltal

BBC News

Image caption: The government has blamed a group allied with Tigrayan rebels (generic photo)

Six people including five students have been taken hostage in western Ethiopia by an armed group, security forces say.

They were abducted in Bafano, in the country's largest region, Oromia, on Sunday.

A statement from the government's intelligence and security task force accused the Oromo Liberation Army (OLA) of abducting the six, who were traveling from the capital Addis Ababa to the city of Asosa, more than 450km (280 miles) to the west.

The OLA has not responded to the accusations but it had previously denied similar allegations.

However in May last year, the OLA said it had "detained" three Chinese mine workers in western Oromia after accusing mining companies operating in the area of displacing farming communities.

The three miners were freed after two weeks in captivity.

The latest incident comes as the fate of 17 students who - in 2019 - were said to have been abducted in western Oromia while travelling still remains unknown.

Related stories:

Defiant protests continue across Sudan's cities

Image caption: "Long live the struggle of women, they alone can break the silence of oppression," read one person's placard

In another day of pro-democracy protests in Sudan, police have fired tear gas to disperse thousands of demonstrators in the capital, Khartoum.

Other cities, including Wad Madani and Gedaref, have also seen large protests decrying October's coup and calling for a return to civilian rule.

They demanded justice for the more than 70 people who medics say have been killed in earlier rallies, many dying of gunshot wounds.

The Sudanese security forces have repeatedly denied using live ammunition against protestors.

The United Nations has been talking separately to the ruling military council and opposition groups with the aim of restoring a transition to democracy.

More about Sudan:

Burkina Faso president's Twitter breaks silence

The Twitter account held by Burkina Faso's President Roch Kaboré has tweeted for the first time since security sources said he was being held by mutinying soldiers.

"We must, at this precise moment, safeguard our democratic achievements," the tweet reads.

"I invite those who have taken up arms to lay them down in the interests of the nation. It's through dialogue and listening that we must resolve our contradictions".