Vince McMahon: WWE CEO steps down amid misconduct inquiry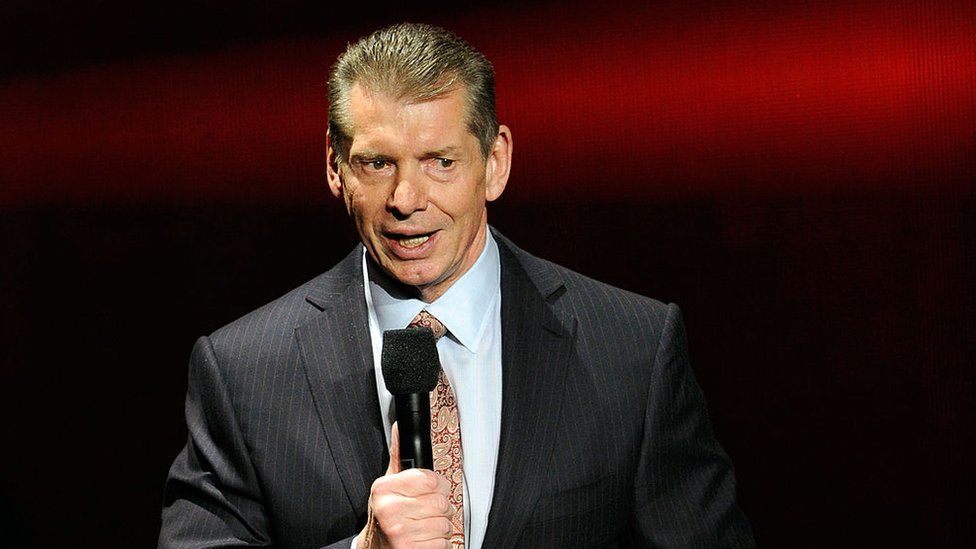 The chairman and CEO of World Wrestling Entertainment (WWE) has relinquished his duties as his board of directors investigates him for misconduct.
The inquiry revolves around an alleged $3m (£2.5m) settlement between Vince McMahon and an ex-employee with whom he had a consensual affair.
The WWE on Friday said Mr McMahon, 76, had "voluntarily stepped back from his responsibilities".
His daughter Stephanie, 45, will serve as interim CEO and chairwoman.
Mr McMahon has not responded directly to the claims but, in a statement, pledged his "complete cooperation to the investigation".
"I have also pledged to accept the findings and outcome of the investigation, whatever they are," he added.
The company has said the billionaire will "retain his role and responsibilities related to WWE's creative content" during the investigation, later adding in a tweet that he would open Friday night's Smackdown programme.
The WWE's board is now said to be in possession of a copy of the agreement - an upfront payment of $1m, with the rest to be doled out over five years and apparently paid by Mr McMahon personally.
Anonymous emails forwarded to board members reportedly claim the woman was hired at a salary of $100,000 but Mr McMahon doubled the figure once they began a relationship.
One reads: "My friend was so scared so she quit after Vince McMahon and lawyer Jerry paid her millions of dollars to shut up," according to the report.
WWE's board has also unearthed previous settlements involving Mr McMahon - potentially running into the millions of dollars - since it opened its investigation in April, the outlet claimed.
Also named in the news report was the company's head of talent relations, John Laurinaitis, who faces claims of misconduct as well.
Mr McMahon founded the WWE in the 1980s and has overseen its growth into a media juggernaut whose weekly content is broadcast in more than 180 countries and 30 languages.
The company's stock is publicly traded, but Mr McMahon retains a majority of its shares.
He, his daughter and her husband Paul Levesque - better known as the wrestler Triple H - all sit on the 12-member board of directors.
In May, Ms McMahon stepped away from her main role as chief brand officer "to focus on my family", soon after Mr Levesque underwent surgery for a "very serious" cardiac event.