Bolsonaro: Closer US-Brazil ties unlikely after 'Trump of the Tropics' meets Biden
By Katy Watson
BBC South America correspondent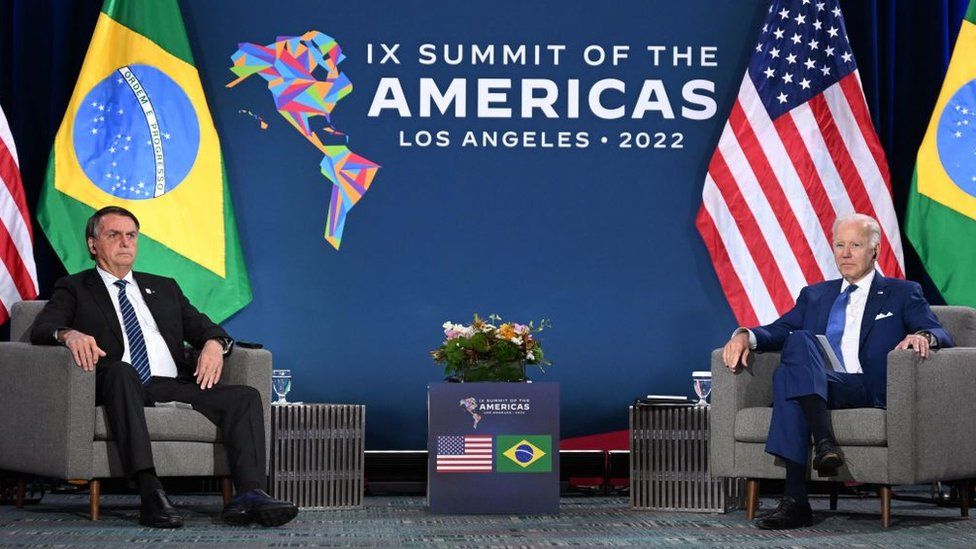 After several months of uncertainty as to whether Jair Bolsonaro would be attending the Summit of the Americas, a bilateral meeting with US President Joe Biden on the sidelines of the summit clinched the deal for Brazil's president to show up at the conference in Los Angeles.
It is safe to say that sparks did not really fly at "hello" - after all, Mr Bolsonaro was one of the last heads of state to congratulate Biden on his 2020 win.
And just this week he repeated a refrain casting doubt on the US election results, echoing Donald Trump's unfounded claim that there was widespread fraud.
The Brazilian and US leaders played it diplomatically for the cameras on Thursday, with Mr Biden calling Brazil "a wonderful place with magnificent people" that he had been lucky to visit several times.
Mr Bolsonaro, for his part, assured reporters that Brazil has "a huge interest in getting closer and closer to the US".
"At times, we've distanced ourselves due to issues of ideology. But I'm sure that since our arrival in the Brazilian government we've never had greater opportunities because of the affinities that our governments have," he said.
But the closely-watched meeting did not hide the frictions beneath.
Dubbed the 'Trump of the Tropics', Mr Bolsonaro is a big fan of the former US president.
And just like Mr Trump, Brazil's president has said that he too might not accept the results of his country's elections in October unless the electronic voting system is changed to printed ballots.
All this couldn't have come at a more awkward time for Mr Bolsonaro. Last weekend, British journalist Dom Phillips and indigenous expert Bruno Pereira went missing in Vale do Javari, a remote and lawless part of Brazil's Amazon beset by illegal mining, fishing and logging.
His response to the disappearances has been judged to be woeful. Mr Phillips and Mr Pereira were on "an adventure that was not recommended" - a comment that spoke volumes about how he views a free press and the role of journalists.
Despite the cocksure tone, Mr Bolsonaro has much to lose. He has four months before facing voters at the polls, and currently trails his left-wing rival, the former president Luiz Inacio Lula da Silva, popularly known as 'Lula'. Considered his nemesis, four years ago, Mr Bolsonaro ousted Lula's Workers Party amid widespread voter disaffection over corruption.
But in his four years in office, the populist right-winger has drawn deep ire over his Trumpian brashness on handling the Covid-19 pandemic and, in particular, his treatment of the Amazon rainforest.
Currently, a push by Mr Bolsonaro to make Brazil central to the world's food supply chain has led to uncomfortable policies.
Earlier this year, he met Russian President Vladimir Putin just before the Kremlin's war in Ukraine, telling reporters: "We are in solidarity with Russia. We very much want to collaborate in many areas — defense, oil and gas, agriculture". (As the largest exporter of soybeans in the world, Russia's fertilisers are crucial for Brazil to keep growing its crops).
But his push to make sure Brazil plays a part in food security has also allowed exploitation of the Amazon that critics say has made illegal miners and poachers more brazen, deforestation soar and conflict intensify.
Despite the placid tone, Mr Biden more than hinted at US concern over Mr Bolsonaro's policies. Though he praised efforts at rainforest preservation, he added: "I think the rest of the world should be able to help you preserve as much as you can" - an apparent response to Mr Bolsonaro previously insisting that Brazil must retain "sovereignty in that area".
Though he nodded towards the desire for closer ties with the US, Mr Bolsonaro may well be out of office before that can happen.