Ghislaine Maxwell: Juror admits 'mistake' not revealing abuse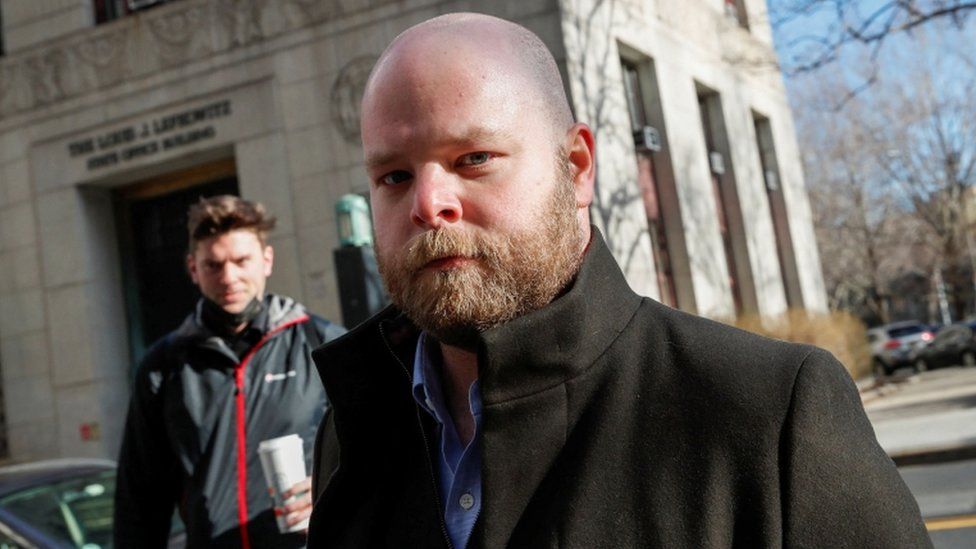 A juror in Ghislaine Maxwell's sex abuse trial has told a hearing it was an "inadvertent mistake", not a lie, to fail to disclose on a questionnaire that he was an abuse victim himself.
Maxwell was convicted of trafficking girls and her lawyers want a new trial, arguing the jury were not impartial.
Her case was thrown into disarray when this juror told the media he had told other jurors about his own abuse.
The hearing in New York will establish whether or not Maxwell is retried.
Maxwell, the daughter of a late British media tycoon, was convicted in December of grooming teenage girls for abuse by the late Jeffrey Epstein.
She faces up to 65 years in prison but maintains her innocence. Epstein killed himself in prison in 2019 while awaiting trial on sex trafficking charges.
The juror in question, who asked to be identified by his first and middle name, Scotty David, was given immunity from prosecution earlier on Tuesday.
When asked why he failed to disclose his past in the jury questionnaire when explicitly asked, he said it was an "inadvertent mistake."
"This is one of the biggest mistakes I have made in my life," he added, saying he "flew through" the document and was "super-distracted" by everything going on around him in the jury room.
After the conviction of Maxwell he had told reporters that he had shared his own experience of sexual abuse with jurors after some had questioned the recollections from two of Maxwell's accusers.
This admission immediately prompted Maxwell's lawyers to demand a retrial.
They argued that him sharing his experience with other jurors could have made them more sympathetic to her accusers and meant she never got a fair trial.