Havana syndrome: Most cases not caused by foreign power - CIA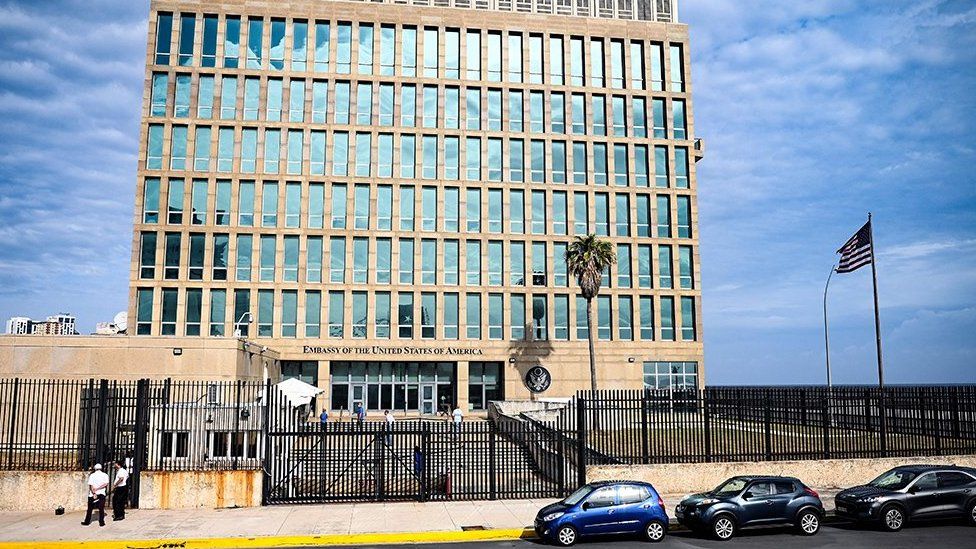 Most cases of a mysterious illness striking US officials dubbed "Havana syndrome" were not caused by a foreign power, CIA officials say.
Since 2016, US diplomats around the world have reported symptoms - sparking suggestions Russia, China or another adversary could be responsible.
But a majority of 1,000 cases looked at by the CIA can be explained by stress or natural causes, officials say.
The release of the findings has angered some of those who fell ill.
And the CIA is still looking into a small number of unexplained cases, where the role of a foreign power has not been ruled out.
Americans who have been hit by Havana syndrome have described dizziness, headaches and an intense and painful sound in their ears. First reported in Cuba in 2016, cases have since been reported in Geneva, Berlin and elsewhere.
Some US officials have previously suggested the illness could be caused by microwave attacks, fuelling speculation the illness could be a kind of weapon from a foreign actor such as Russia. Moscow has always denied any involvement.
However, one official told the BBC that while the investigation had made 'significant progress,' it had not found evidence of a worldwide campaign by a foreign state.
Instead, it had found that most of what are formally known as anomalous health incidents could be explained by medical conditions like undiagnosed illness or environmental factors.
The official added it was "unlikely that a foreign actor, including Russia, is conducting a sustained, worldwide campaign, harming US personnel with a weapon or mechanism".
The interim findings may not have found evidence of a global campaign by Russia or some other state to use a weapon or device - but that is not quite the same as "case closed".
The number of reports had ballooned in recent years, reaching a thousand. That was partly because after years of scepticism, the US government started to encourage people to come forward if they thought they might be suffering.
The list of symptoms is so broad and so unclear and - in the form of things like headaches - so common that it is not surprising that this led to a huge influx.
The CIA say the vast majority of these can be explained by medical or environmental factors. But not necessarily all of them.
Some two dozen cases remain and officials say a foreign state cannot be ruled out here.
Many victims will continue to make their case as well. So even though this is a significant moment, the mystery of Havana Syndrome is not quite over.
"This is not the end," a senior US official told me.
Groups representing victims of the illness said they were disappointed by the report's initial conclusions.
"Not all the cases can be explained away. This cannot and must not be the last word on this matter, because it is neither definitive, nor comprehensive," the Advocacy for Victims of Havana Syndrome group said.
The interim report is not being made public. But a statement was sent to the BBC on behalf of CIA Director William J Burns which said the agency's "commitment to care is unwavering" and that while they had reached some significant interim findings, "we are not done".
It added: "We are pursuing this complex issue with analytic rigor, sound tradecraft, and compassion and have dedicated intensive resources to this challenge.
"We will continue the mission to investigate these incidents and provide access to world-class care for those who need it. While underlying causes may differ, our officers are suffering real symptoms."