Ivermectin: Oklahoma doctor warns against using drug for Covid treatment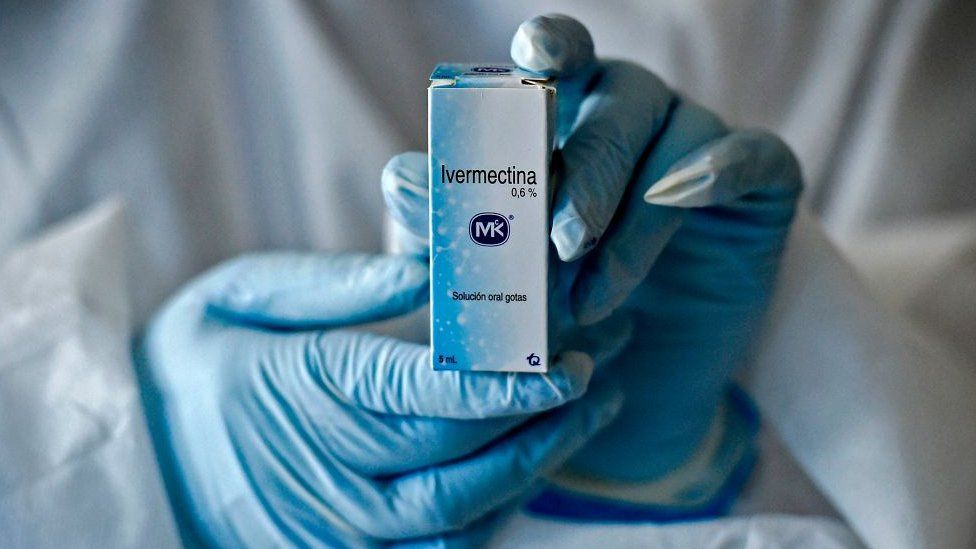 A US doctor is urging people to stop taking the horse deworming drug Ivermectin to treat Covid-19.
Patients have been needing urgent treatment at emergency units in Oklahoma hospitals after overdosing on the drug, Dr Jason McElyea says.
Small doses of Ivermectin are approved for use on humans, but not for Covid.
"You've got to have a prescription for this medication for a reason - because it can be dangerous," Dr McElyea told the BBC.
He said a "handful" of people overdosing on the drug were putting further strain on hospital staff already stretched by a surge in Covid cases.
The US National Poison Data System reported 459 cases of Ivermectin exposure in the US in August, though no breakdown was provided for Oklahoma.
The Center For Disease Control and Prevention (CDC) has issued an advisory saying that calls to poison control centres across the US about human exposure to Ivermectin have risen sharply, with July calls being five times over the baseline number.
"These reports are also associated with increased frequency of adverse effects and emergency department/hospital visits", the CDC said.
Dr McElyea also told local broadcaster KFOR that emergency rooms "are so backed up that gunshot victims were having hard times getting to facilities where they can get definitive care and be treated," however the BBC was not able to independently verify this claim.
Since Dr McElyea made his comments one hospital served by the medical staffing group that employs him said they had not treated any patients due to complications related to taking Ivermectin.
In a statement, Northeastern Health System - Sequoyah in Sallisaw said "our hospital has not had to turn away any patients seeking emergency care."
Ivermectin, mainly a veterinary deworming agent, can be used in small doses to treat some human conditions.
But the drug has become controversial after being promoted as a way of treating or preventing Covid, despite being so far unproven.
"You are not a horse. You are not a cow," the FDA said, warning that taking large doses of the substance "is dangerous and can cause serious harm".
Matthew Payne, a doctor at Stillwater Medical Center in Oklahoma, said he regularly encounters patients who have taken Ivermectin.
"There is surprise and shock when they initially get sick and have to come to the hospital," he told The Washington Post newspaper earlier this month. "They'll say, 'I'm not sure why I feel so bad. I was taking the ivermectin,' and I will say, 'It doesn't do any good.' "
This week, the influential podcast host Joe Rogan, who has dismissed vaccines, said he was taking Ivermectin after testing positive for Covid-19.
Dr McElyea said patients who had taken the drug were arriving at hospital with vomiting, muscle aches, and even vision loss.
"Some people taking inappropriate doses have actually put themselves in worse conditions than if they'd caught Covid," he told KFOR.
"You have to ask yourself, 'If I take this medicine, what am I going to do if something bad happens?' What's your next step, what's your back-up plan? If you're going to take a medicine that could affect your health, do it with a doctor on board."
Oklahoma is one of several US states battling the spread of the Delta Covid variant, with 18,438 new cases recorded in the past week.
Update 6 September 2021: Since Dr McElyea's comments were widely reported, a hospital served by the medical staffing group which employs him issued a statement advising that they had not treated any patients due to complications related to taking Ivermectin and our article has been updated to reflect this development.
You might also be interested in: