Ashli Babbitt: Family of woman shot in US Capitol riot demands police files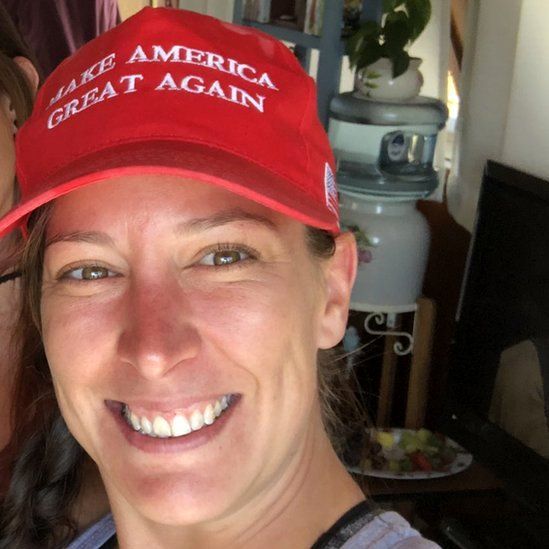 The husband of Ashli Babbitt, the woman fatally shot by a police officer while breaching the US Capitol in January, is demanding access to files from a probe into the incident, US media report.
In a lawsuit, Aaron Babbitt has asked for Washington DC police to disclose details including files revealing the identity of the officer who shot her.
An earlier investigation found there was insufficient evidence to charge the Capitol Police officer with wrongdoing.
He has not been publicly named.
Ms Babbitt was part of a mob of Donald Trump supporters who stormed the US Capitol in Washington DC on 6 January as lawmakers gathered to validate Joe Biden's presidential election victory.
The 35-year-old was part of a group that forced entry into the chamber of the House of Representatives while it was still in session. She was confronted by plainclothes officers, and one pulled out a weapon and fired it. Ms Babbitt was declared dead at hospital shortly afterwards.
The US Capitol Police said at the time that the officer involved had been put on administrative leave.
In a statement published in April, the US justice department said an investigation revealed "no evidence to establish beyond a reasonable doubt that the officer wilfully committed a violation".
The justice department added that it saw no evidence to suggest that the officer "did not reasonably believe that it was necessary" to respond the way he did to protect others.
On Wednesday it emerged that Mr Babbitt had filed a lawsuit on 1 June seeking the disclosure of files from the investigation into his wife's death, including police reports, witness statements and video footage.
A lawyer representing Ms Babbitt's family told CNBC that the lawsuit was separate from forthcoming planned legal action demanding a payment from Capitol Police of "well above $10m (£7m)".
What do we know about Ms Babbitt's death?
In video footage posted online at the time of the Capitol riot in January, a woman believed to be Ms Babbitt is seen with a Make America Great Again flag draped around her shoulders, amid a crowd of rioters inside the Capitol building, trying to get through a set of locked doors.
A member of the US Capitol Police is seen in another video pointing a gun at the group.
The woman is then seen climbing onto a ledge next to the door. Investigators said Ms Babbitt attempted to climb through one of the doors where glass had been broken, after it was struck with flagpoles and helmets.
Almost immediately, a loud bang is heard and she is filmed falling to the ground.
Police later said Ms Babbitt was hit in the left shoulder, causing her to fall back from the doorway and onto the floor.
She received aid at the scene from an emergency response team. Ms Babbitt was then admitted to hospital with a gunshot wound and died later that evening, police said.
Ms Babbitt was a veteran of the US Air Force who had served two tours in Afghanistan and Iraq. She later worked at a pool service company with her husband Aaron, whom she had only recently married.
Three other pro-Trump protesters died in the Capitol riot - two suffered heart failure and one died from an amphetamine overdose.
You may also be interested in: