Eric Carle: Very Hungry Caterpillar author dies aged 91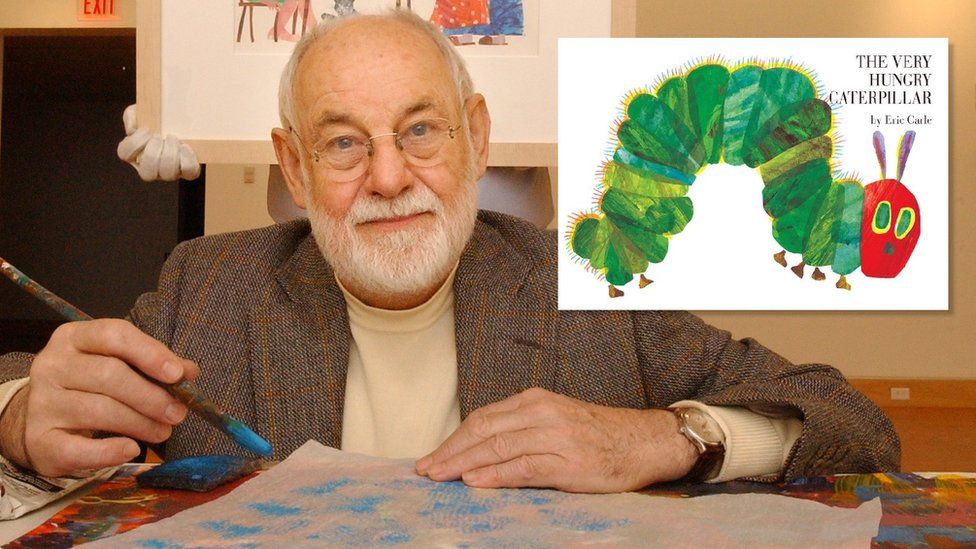 Eric Carle, the US author of best-selling children's book The Very Hungry Caterpillar, has died aged 91.
He died last Sunday, his family said.
"In the light of the moon, holding on to a good star, a painter of rainbows is now travelling across the night sky," a family statement said.
Carle's most famous book, which tells the story of a ravenous caterpillar, was published in 1969 and has sold more than 50 million copies.
The simple but everlasting tale - just 224 words long - has been translated into 62 languages.
Carle's son Rolfe told the New York Times his father had died in Northampton, Massachusetts, of kidney failure.
Carle, who was born in Syracuse, New York, began writing children's books in his late 30s.
In 2019, he told the BBC why he thought the story endured for five decades.
"For many years, my publisher and editor and I did not know the reason for The Very Hungry Caterpillar being so popular," he said.
"But over time, I've come to feel that it is a book of hope. And it is this hopeful feeling that has made it a book readers of all ages enjoy and remember."
Born in upstate New York to German immigrant parents, Carle moved as a child with his family to Stuttgart in the mid-1930s because his mother was homesick, only for his father to end up drafted into the army during World War Two and get taken prisoner by the Soviets.
Experiencing the trauma of war gave Carle a different way of seeing the world.
He eventually moved back to New York and worked as a graphic designer and then at an advertising agency, before collaborating on his first picture book Brown Bear, Brown Bear, What do you see?
The first version of The Very Hungry Caterpillar was called A Week With Willi Worm, inspired after Carle used a hole punch to create circles into a stack of paper.
It gave him the idea of a bookworm but Carle said his editor was not keen on a worm so various other animals were discussed. Finally they settled on a caterpillar and butterfly.
No US printers would publish the book because of the differently shaped pages with the holes, but eventually a printing company in Japan was found.
It is estimated that nowadays Carle's book is being bought every 15 seconds.
It is not just the book that remains popular, there are animated versions of the story, various merchandise spin-offs and a stage production that to date has been watched by a million children.